YouTube Harlem Shake Videos Go Super Viral – Funniest Top 5
Industry: YouTube
New York, NY (PRUnderground) February 18th, 2013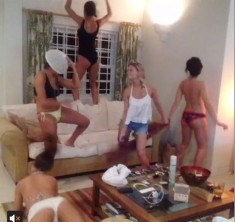 Move over Gangam Style there is a new dance in town and it has taken the internet by storm. It's called "The Harlem Shake". Unlike other viral videos, this video consist of user uploading a 30 second video to the song "The Harlem Shake – by Baauer" and creating their own unique version. Since the first video aired on February 2, 2013, there have been over 42,000 videos uploaded. Over 5,00 videos a day are being posted each day. They have been watched over 150 million times. Everyone one from the Today Show to Pepsi Max to families at home are getting in on the action.
What makes this such a hit…It's easy to create your own version and no 2 versions are alike. Watching the video is fun to spot the different outfits and people doing the wackiest stuff on their version.
This simple formula has created a new recipe for viral success that seems to be steam rolling. What's is your favorite version? Feel free to share the link with us.
Below are my top 5 favorite Harlem Shake videos:
Original Army Edition – Just something about the military doing the Harlem Shake. The guy falling out the window is too funny.
2. The Original – Although not as crazy as the others, this started the craze.
3. Portland Edition – Awesome props from the horse head to the robot made of a cut out box.
4. Brother & Sister Edition – Picked this one because it show how simple it is to create your own version. Brother and sister were bored at home and came up with it in seconds.
5. Times Square Edition – This is two parts. It was selected because this guy had the B**ls to pull this off in the busiest intersection in the world even when the NYPD spoiled the fun. Funny to see the cops become part of the dance..
Share your own or your favorite in the comment feed below.
About