Yasmeena's Floral Celebrates 10 Years of Service
Industry: Event Planning
Dearborn floral business continues to provide top-notch floral and event services
Deaborn, MI (PRUnderground) September 6th, 2015
The staff at Yasmeena's Floral is excited to celebrate their tenth year in business. Since it was founded in 2005, the company has grown from a small-scale florist shop to an event company that specializes in birthdays, showers, corporate events, and weddings.
Jenan Dakroub, owner of Yasmeena's Floral, launched the company at just 19 years old. The young entrepreneur has managed the business and navigated its success by providing world-class customer service. By focusing on the needs of each client, the company has grown into a full-scale event planning company.
"Yasmeena's prides itself in employing a dedicated staff who will go the extra mile to provide quality products and excellent customer service," said the team.
Yasmeena's Floral is a part of the FTD network, and customers can seamlessly order individual bouquets for all occasions online. Aside from delivering stellar floral arrangements, the Yasmeena's Floral team lends its services to creating unforgettable weddings, birthdays, bridal and baby showers, holiday events, corporate events, graduations, and proms.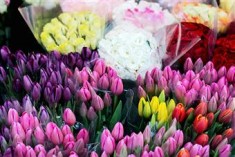 Through the Yasmeena's Floral website, customers can browse the company's stunning portfolio, blog, and store. The company has found that a key to creating amazing customer experiences is to offer a solid online presence with plenty of visual and informational details for prospective clients. Once people review the website, they often ask for more information.
As Yasmeena's Floral celebrates a decade of service, the company looks forward to offering continued services in Dearborn and the surrounding areas. Dakroub has demonstrated that a successful entrepreneur is a flexible one who loves to learn, and Yasmeena's Floral will continue to evolve to fit the needs of its clients.
More information can be found at http://www.yasmeenasfloral.com/.
About Yasmeena's Floral
Yasmeena's Floral was founded in 2005 and offers fresh flowers, floral arrangements, linens, chair covers, lighting, and draping for special events and holidays in and around Dearborn, Michigan.