World Laparoscopy Hospital Announces Free Laparoscopic and Robotic Surgery Camp
Industry: Medical
World Laparoscopy Hospital, Gurgaon, India, Announces Free Laparoscopic Surgery Camp at World Laparoscopy Hospital from 5th to 15th of July 2014.
India (PRUnderground) July 3rd, 2014
World Laparoscopy Hospital, Gurgaon, India, Announces Free Laparoscopic Surgery Camp at World Laparoscopy Hospital from 5th to 15th of July 2014. There are many individuals who desperately need medical surgery but are too poor to be able to afford it. Some of these needed surgery's may even be life threatening. More and more people are becoming homeless living on the streets each and every day. Poverty is becoming a very common thing now days. Many go years without receiving important medical surgery. As time goes on, things can only get worse. This is why they believe in helping the needy. These doctors help those who aren't capable of helping themselves. Life shouldn't be revolved around making money, but helping others. They choose to put a stop to suffering and will do everything in their power to do so. As doctors, they want to help make the world a better place.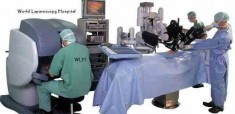 Some of the Free Surgery's Offered in this free camp Include:
Gallbladder Surgery: The surgeon inserts a lighted scope connected to a camera into one incision near the belly button. The surgeon then uses the camera as a guide while removing the gallbladder.
Hernia Surgery: Laparoscopic Hernia Repair is similar to other laparoscopic procedures. General anesthesia is given, and a small incision is made in or just below the navel. The abdomen is inflated with air so that the surgeon can see the abdominal organs and a thin, lighted scope is inserted through the incision. The instruments used to repair the hernia are inserted through other small incisions in the lower abdomen. Mesh is then placed over the defect to reinforce the belly wall.
Appendix Surgery: This is sometime an emergency surgical procedure where the surgeon will make a small incision and remove the inflammed appendix.
Uterine Surgery: This include laparoscopic hysterectomy, Uterine Myoma Surgery and laparoscopic repair of uterine prolapse.
Ovarian Surgery: The ovarian surgery which will be performed in this free camp include. Ovarian Cystectomy, Ovarian Dermoid and Endometriosis surgery.
The doctors of World Laparoscopy Hospital, Gurgaon, India, believe that if someone is in medical need they shouldn't have to suffer. This is why they will be providing free Minimally Invasive Surgery too all those in need. Regardless of a persons income, he/she can get help even if they don't have any insurance. These incredibly generous doctors refuse to stand by while those in need wait due to financial reasons.
"All the laparoscopic surgery will be completely free for poor and even the medicine charges will not be taken from the patients in this camp" said Director of World Laparoscopy Hospital, Dr R K Mishra. Gallbladder surgery, Hernia surgery, appendix surgery, uterus surgery, ovary surgery, fallopian tube surgery and all the abdominal diseases surgery will be performed by laparoscopic surgery at this camp.
It is very unfortunate that present days healthcare is just all about money. Money is essential and even from the earliest days doctors needed to be compensated in order to maintain their livelihood. As medical advances progressed in the 19th century and healthcare began to rely on empirical science, costs increased. In the early 1900s, doctors were no longer expected to treat patients for free if they could not pay. Present days Hospital began to transform themselves from a place people went to die to a place where people could be cured. It is unfortunate all of this cost money is more for laparoscopic surgery. Laparoscopic Surgery is must for poor people because they earn their money by doing physical hard work and they need to recover much faster then rich people."
World Laparoscopy Hospital apart from providing treatment conduct training in laparoscopic and robotic surgery. All Laparoscopic and da Vinci robotic surgery training  programs at WLH are supported by World Association of Laparoscopic Surgeons, authorized by (IAO), USA and International College of Robotic Surgeons. This is the motivation behind why the Laparoscopic Surgery Training at World Laparoscopy Hospital is regularly viewed as one of the best in the business.
Visit http://www.laparoscopyhospital.com/free_laparoscopic_operation.htm
About World Laparoscopy Hospital
World Laparoscopy Hospital is a nonprofit super specialty academic medical institute that integrates clinical and hospital care with research and education in Minimal Access Surgery. WLH was established in 2001 as a center of excellence, to provide advanced surgical treatment through minimal access surgery.