WordPress magazine plugin can be easily created with FlipBuilder PDF flipbook software
Industry: Technology
Online publishers can create WordPress magazine plugin and confidently promote the ebook content with FlipBuilder.
HongKong, China (PRUnderground) February 29th, 2016
Online publishers looking for smart creativity and attraction in their digital WordPress publications can trust the FlipBuilder PDF flipbook software. This leading-edge solution is the perfect option as it features the advantageous option of creating WordPress magazine plugin.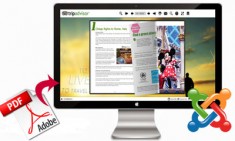 All types of digital publishing users can confidently work with this Flip PDF tool and use many attractive ways for boosting website traffic. Professional WordPress magazine plugin can be easily designed without coding.
Original PDF documents can be converted to responsive flipping content, which is more attractive than the static PDF files. Customers prefer the latest flipbook brochures, catalogues and promotional content as they deliver excellent realistic experience. The visitors are more engaged, and the content embedded in these online flipping books creates a solid impact.
Flip PDF software is intelligently formulated by FlipBuilder to provide superior features for the popular WordPress platform. Fermi Huang, Chief Engineer of Flipbuilder, and his skillful development team has ensured to include widest range of innovative multimedia tools, HTML5 standards, and tons of other high-quality Ecommerce features.
Most of the websites are created with the popular WordPress, and this PDF to flip solution delivers the essential plugin and other features to best utilize this powerful platform. The users of Windows & Mac can make their E-magazines even more fascinating and compelling with media rich content. Inclusion of interactive elements such as Flash animations, audio files, Vimeo/Youtube videos make the ebooks even more impressive.
The digital authors have the option to use all of the latest Android, Mac, MS Windows and other popular operating system platforms for promoting their engaging flipping publications. This Flip PDF tool facilitates users with its trouble-free integration of Google Analytics. Therefore attract more online visitors and gather real time data about the audience.
The staggering Word Press magazine capabilities featured in this solution empower the online publishers to reach wider audience across the widest Ecommerce and Social Media network.
More details at: http://www.flipbuilder.com
About FlipBuilder