Women-Only Photovoltaic Installation Course in Albuquerque May 2015 says Construction Reporter
Industry: Commerical Building
The all-women's course is open to all women, on the weekends of May 8-10 and May 16-17 2015 in Albuquerque. The first weekend is classroom, second is installation.
Albuquerque, NM (PRUnderground) March 25th, 2015
Marlene Brown, pioneer in the solar field, will team up with Positive Energy co-owner Taiyoko Sadewick to offer a 40-hour Women-Ony PV Course on the weekends of  May 8-10 and May 16-17 in Albuquerque, New Mexico.
This course will support women in the construction industry, among others, in gaining this valuable experience.
The installation will triple the size of a small PV system at the Peace and Justice Center, which recieved its initial 1 kilowatt hour installation via an initial Women-Only PV course taught by Brown ten years ago.
"I get the question a lot, 'why women only?'" says Brown.
"It's women-only because we're not on the same playing field," she says.  "Women aren't raised to use power tools.  In a co-ed class, women often take a step to the back.  They worry about asking stupid questions.  This class will foster a nurturing environment where we can all help each other learn."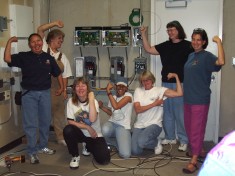 Brown has taught co-ed and women-only PV installation courses across the nation and globe, from courses with an all-women group in Vietnam to an all-men's group in the Solomon Islands. She is a senior member of the technical staff at Sandia National Laboratories.
She is currently chair of the Solar Electric Division of the American Solar Energy Society (ASES), and created a Women in Solar Forum, Luncheon, and Award program featured at their annua conferences.
The first weekend of the class (May 8-10) is classroom based and can be taken as a stand-alone course.  Brown is pursuing CEU credits for electricians, yet the class is open to any woman, there are no requirements to attend.
"I want women to step up and enroll. We have a ton of experience, and it's going to be an incredible class.  In previous courses I've had electricians, homeowners, educators, NASA engineers, music teachers, mothers who were homeschooling their kids."
Read the full article and register here!
About Construction Reporter
Founded in 1949 to provide New Mexico contractors with local project information, Construction Reporter has grown steadily in size and coverage area, today serving the commercial construction industry throughout the Southwest. Our mission is to help our customers succeed by delivering reliable, comprehensive, up-to-the-minute information on projects in planning and out for bid in New Mexico and the surrounding states. We are passionate about helping our member companies grow by delivering the most bidding opportunities, the most efficient bidding tools, and the most industry exposure of any news service in the region.