While Freight Trucking Companies are Tightening, A-1 Freight Systems is Expanding
Industry: Trucking
The world of transportation brokering goes up and down with the economy. As other freight trucking companies are tightening budgets, A-1 Freight Systems is expanding
Salt Lake City, Utah (PRUnderground) November 18th, 2015
The driver pool in the shipping and transportation industry is in high demand. Experienced drivers are retiring while new drivers are not being introduced into the industry quick enough. While this trend is creating a shortage of freight drivers, A-1 Freight Systems has found a way to beat the competition and continue to attract qualified drivers. This month alone, the company welcomes two new drivers; Wayne Sanders and Robert Brown.
Wayne Sanders brings 15 years of experience transporting freight. Robert Brown compliments A-1 Freight Systems shipping and transportation company with 20+ years experience driving.
Kara Harris, A-1 Freight Systems Office Manager, comments on the company's strong growth in the field of drivers and freight broker jobs. "Too often other freight trucking companies fail to realize how cyclical our industry is. Instead of reacting when the economy is down, A-1 Freight Systems prides itself on being proactive during all economic climates. This has afforded our team of freight brokers and drivers the ability to continue to scale larger while others are tightening their budget."
With attractive lease packages and competitive incentives, it is no wonder that A-1 Freight Systems continues to attract top drivers to expand their driving team.
82% – 18% split on all shipments
First settlements come in two weeks and then every week thereafter.
Personalized account rep
Next day direct deposit
Weekly settlement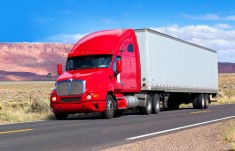 For more information on A-1 Freight Systems, to learn about their enticing owner/operator packages, or to get a free freight transportation quote call 1-888-752-2211 or visit a1freightsystems.com
About A-1 Freight Systems
A-1 Freight Systems is a full service freight brokerage that offers specialized hauling in the US and Canada. These shipping and transportation specialists provides excellent service to their customers and carriers through their dedicated fleet, and independent owner operators. A-1 Freight Systems also offers a very competitive Agent Development Program.