Venod Sharma addressed a massive rally in Indri, Karnal
Industry: Politics & Political Organizations
Venod started by explaining the need of Janchetna Party. He pointed that in the last 10 years, the state govt. had worked on discriminatory lines, restricting the growth
India (PRUnderground) July 16th, 2014
Venod Sharma addressed a massive rally in Indri, Karnal on 12th July 2014. Venod started his speech by welcoming the senior leaders and office bearers of Janchetna Party and thanked the people of Indri and nearby areas who came to attend the rally, in spite of hot weather condition.
This was the first major gathering of Janchetna Party in Indri. He felt happy that within a short span of time Janchetna Party had created its space in the hearts and minds of the people. He congratulated people for supporting Janchetna Party and making the issues being raised by the party as the main topic of discussion in Haryana.
Venod started by explaining the need of Janchetna Party. He pointed that in the last 10 years, the state govt. had worked on discriminatory lines, restricting the growth and development only to few constituencies of Haryana. People had put faith in the govt. and supported it for the last 10 years. But the government cheated and discriminated with them. Janchetna Party was formed to oppose this favouritism.
Venod criticized that no development work has been done in Indri, Ladwa, Radaur, Kurukshetra area. He questioned people to analyze the reasons behind this neglect. He explained that the reasons were not restricted only to last 10 years, but goes back to 40- 50 years. In the last 50 years, no development took place in Indri and nearby region. Different parties have come and gone. Chief Ministers have come and gone, be it Bhajan Lal, Om Prakash Chautala, or Bhupender Singh Hooda. But no development has been done in the GT Road belt from Yamuna Nagar to Faridabad, Hodal. Intentionally, these regions have been ignored. Half of the Haryana has been ignored successively by past and current Chief Ministers. Nothing has been done in these districts for development, jobs, industry growth and education.
Venod Sharma highlighted that the reasons for this injustice is that people of these regions are ignorant about their rights and do not realize their political power. People do not care and fight for their rights. Successive governments are under impression that people of this region will not raise their voice even if their rights are ignored. Janchetna Party has been formed to raise that voice, the voice which was not being heard by these politicians. These politicians were using the votes of this region but were ignoring them. Now people of the region have raised their voice through Janchetna Party.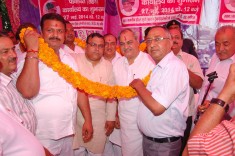 Venod pointed that winds of change has started blowing. People have started realizing their true power. People are now demanding their rights, which can be seen by the massive protest done by thousands of students and Janchetna Party workers on 2nd July in Panchkula against the current interview policy in the state govt. recruitment process. Hundreds of Janchetna Party workers were arrested in Panchkula, but the govt. was not able to break their resolve.
Venod Sharma compared the Haryana SSC with Simon Commission. He alleged that the commission did not believe in justice and in fact was restricting genuine candidates from getting jobs. He pointed the anomalies of the Haryana SSC where members of a single family were getting ten govt. jobs, whereas in some places there is not a single govt. job in one family. Until and unless each and every family gets a govt. job, Venod's fight against injustice will continue.
He pointed that as the government's term is about to get over, it is now trying to give jobs to its known in police and teaching departments. He asked people to become aware about their rights, realize their power, stay united and demand action by the govt. It is now or never.
About Star Infranet
Star Infranet is technology driven and customer focused organization. We are building India\'s leading channel for supplying Information technology deliverables to local masses, to bring them over to Internet and create awareness among those who have not been able to reap the benefit of web.
It is our intention to build a brand which is widely recognized through it\'s network, Accepted and Trusted which we feel is critical to our long term success as an organization on a whole.
Star Infranet is registered trademark of Tathastu Information Technology Private Limited (TITPL) and is a privately held company funded by Information TV Pvt. LTD.