Trucking Brokers, A-1 Freight Systems, Continue Growth With New Driver
Industry: Trucking
Shipping and transportation company, A-1 Freight Systems, welcome new driver, Pat Saunders.
Salt Lake City, Utah (PRUnderground) July 13th, 2015
Full-service trucking brokers, A-1 Freight Systems, is taking 2015 by storm. With back-to-back growth during the first two quarters of the year, A-1 Freight Systems announces further expansion with the hiring of new freight driver, Pat Saunders.
Kara Harris, Accounts Manager for A-1 Freight Systems, comments. "We made a strong initiative this year to bring our name to the forefront of the shipping and transportation industry. With the launch of a new, mobile friendly website and an increase of trucking brokers and freight drivers we're on pace to meet our 2015 growth initiatives."
Based out of Salt Lake City, A-1 Freight Systems new driver, Pat Saunders, too, is from Utah. Mr. Saunders brings over two decades of freight trucking experience. Ready for large honey bee freight for bee customers, Mr. Saunders' 48′ flatbed trailer is being hauled by a 2011 International. Mr. Saunders' skillsets will compliment A-1 Freight Systems areas of expertise.
shippers
carriers
owner operators
agents
insurance and liability details
certifications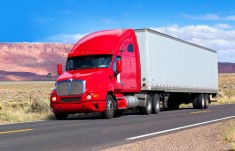 The quantity of drivers at A-1 Freight Systems is not the only increasing factor within the shipping and company's 2015 growth. A-1 Freight Systems recently announced an expansion of their already impressive fleet to meet increased demand for truck freight services.
2005 Peterbilt
2003 Kenworth
1997 Peterbilt
48′ Fontaine Step Deck trailer
Two 48 Flatbed trailers
Several standard 48′ step decks for hauling larger equipment
53′ Step decks for specialized hauling
48′ Flatbeds
Hazmat certified drivers
California legal trucks
Drivers with TSA clearance
The addition of Pat Saunders and previous announcements of additional freight truckers is a trend that A-1 Freight Systems plans on continuing throughout 2015. For more information about A-1 Freight Systems shipping and transportation services call 1-888-752-2211 or visit www.a1freightsystems.com.
About A-1 Freight Systems
A-1 Freight Systems is a full service freight brokerage that offers specialized hauling in the US and Canada. These shipping and transportation specialists provides excellent service to their customers and carriers through their dedicated fleet, and independent owner operators. A-1 Freight Systems also offers a very competitive Agent Development Program.