Trends Indicate Selfie Sticks are Here to Stay, says The Memory Journalists
Industry: Photography
Statistics and reports agree that selfie sticks are growing in popularity
SACRAMENTO, CALIFORNIA (PRUnderground) August 31st, 2015
Selfie sticks are a relatively new invention that allow people to effortlessly take beautiful self-portraits, and there are already countless varieties of the contraptions available in worldwide markets. While some people consider themselves to be "anti-selfie stick", trends indicate that selfie sticks will be around for a long time. Ahead of the 2015 holiday season, The Memory Journalists have brought together statistics and reports that indicate rising growth in demand for selfie sticks.
During the 2014 holiday season, selfie sticks were difficult to find as they flew from shelves. Major suppliers of camera accessories quickly ran out of stock of selfie sticks, and Bloomberg reported that more than 100,000 selfie sticks were sold in December 2014 alone. According to the article, consumers made selfie sticks a go-to and must-have gift for 2014, and The Memory Journalists anticipates that the same will be true for the 2015 holiday season.
Rising demand for selfie sticks is being seen around the world. In the last quarter of 2014, Amazon UK reported a 301 percent rise in selfie stick sales. Searches for selfie sticks are on the rise, and consumers all over the web are leaving high remarks for their contraptions. Selfie sticks have even seen an evolution of sorts, with newer models supporting Bluetooth functionality for ease of use.
The Memory Journalists recently released their version of the selfie stick, a Bluetooth-enabled, remote shutter model that offers a deluxe extendable pole and is compatible with iPhone 6 Plus, 6, 5s, 5c, 5, and Android smartphones. The Memory Journalists' selfie stick is now listed as a #1 Best Seller on Amazon with nearly 800 reviews and a 5-star rating.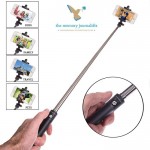 The company anticipates high sales volume during the last quarter of 2015. Since the product launched earlier in 2015, it has received high remarks and even the attention of Amazon for being a best seller. In a market that is quickly becoming competitive for selfie stick retailers, standout manufacturers are staying ahead of the game by offering in-demand features.
The Memory Journalists expect that consumers will be looking for enhanced features, such as streamlined selfie sticks with features that make the device easier to use and carry than ever before.
The company has proven this theory true by implementing the most in-demand features and receiving a record-shattering response. One customer recently said, "This selfie stick compared to others is small in size, which makes it convenient to pack and travel with on your adventures. The selfie stick can extend quite far, allowing wider shots. I've also tested the strength of the grasp of the selfie stick by shaking the stick around with my smartphone installed. Happy to say it didn't fall out, I've tried over my bed at first and have been using outdoors in windy conditions and the phone stays on pretty well."
People are finding new uses for their selfie sticks and are looking for the height of luxury when it comes to features. Based on recent statistics and customer reports, trends indicate that selfie sticks are here to stay. More information can be found at http://www.memoryjournalists.com/.
About The Memory Journalists
Founded in 2004, The Memory Journalists is a Northern California based photography studio.