Top 10 Tips To Get The Best Price Possible For Your Car By Rand Monroe, VP, Gen. Mgr., Trustmark
Industry: Automotive
Purchasing a home and a car are typically the largest singular purchases we all make in life. So when selling your car, make sure you net the highest price possible.
Napa, CA (PRUnderground) April 16th, 2015
KEEP IT CLEAN
Dealers know that a clean looking and smelling car sells faster and for a better price. You can do the same!  A buyer can't see past fast food wrappers, water bottles and dog hair.  Wash and wax the exterior. Buyers like to feel like it's their 'new' car, and when it's shiny and smells good, that makes a big impression.
KEEP RECORDS
Hold onto copies of receipts for oil changes, tires and maintenance so you can give it the buyer at the sale.  Remember to have the pink slip and registration ready.
PRICE IT RIGHT
Kelley Blue Book is still the gold standard for car pricing.  Be honest – is it on the high end or in the middle?  Pricing your car right helps sell it quickly.
SELL SMART
Sell it yourself.  A dealer's trade-in price is rarely as good as what you can get on the open market.
WARRANTY IT SMART
Go online and purchase a 3-month, factory-style warranty from SellersEdge.com for $295.  The warranty can raise the value of your car by anyone other than a dealer. The buyer will feel secure in purchasing from you.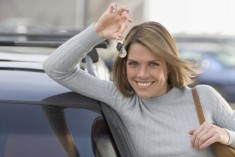 INSPECT IT
If you purchase a Seller's Edge warranty, a 40-point inspection report is already included.  Or, go to your mechanic and have your car inspected.
MARKET IT BRILLIANTLY
Yes, you should list it on Autotrader and CraigsList.  Utilize the power of social media and Tweet it out to all your friends. You should take photos of your car from all sides. Look at a car magazine for ideas. Point out the strong points, but be honest.  If there's a noticeable scratch, include it in the ad. And, if you buy the factory-style, 3-month warranty from SellersEdge.com, they'll even create the ad for you.
SELL IT SAFE
No matter who you are, it's smart to pick a neutral location to meet your prospective buyer.  Never have them come to your home.
BE CLEAR ON TERMS
Either cash, or a cashier's check or a money order drawn on a local bank should be specified – never a personal check.  Drive your car to the bank and together, with the buyer, go in and cash the check or deposit it .  Verify payment before allowing the buyer to drive away with your car.  Check with your local DMV on the required paperwork for a transfer.
CELEBRATE!
You've worked hard and done your utmost to get the highest price for your car!  It's time to shop for your next one, invest the proceeds, or take off for that long-awaited adventure.
About SellersEdge.com
For the first time ever, the seller of a used car is now able to offer a factory type power-train warranty to the buyer of their car – thereby offering the same advantages to both the buyer and the seller that previously was reserved to dealerships. With 11 million used car sales made in private transactions each year in the United States, Seller's Edge is a product that effectively levels the playing field for private sales of used automobiles. Seller's Edge protects the buyer, while at the same time differentiating the seller's car from others on the market; all for the very approachable price of $295. Seller's Edge is a product whose time has come – and will soon become the gold standard for all future used car sales made between private individuals.
Additionally, sellers of used cars soon will be able to post their automobile to a proprietary Seller's Edge website, where only cars that offer the firm's warranty will be listed. Sellers remain free to post their car to Craig's List, eBay Motors, etc., yet now they will be able to post it with the Seller's Edge emblem, notifying buyers of its warranty. After all, everyone appreciates the additional sense of security a warranty brings to significant purchases, especially when it comes with such a small price tag. Soon it will become a question of, "Why don't you have a Seller's Edge warranty?"
The advantages of a Seller's Edge Warranty make it a clear choice to the seller of a used car. The factory-type power train warranty not only differentiates the car from others on the market, it provides a high degree of security for the buyer, which can result in a quicker sale at the asking price.
And it's easy to get started. Once a seller qualifies their car online at www.SellersEdge.com, by simply providing the make, model, year, mileage and zip code of where they reside, the seller can purchase the Seller's Edge Warranty right there on the website. The zip code allows Seller's Edge to schedule an inspection at the seller's home or office, within the contiguous United States plus Hawaii. If the car passes the inspection, Seller's Edge provides warranty documentation for the seller to give to the buyer, plus stickers and an emblem to include with any photos or listings on websites advertising the vehicle for sale.
The advantages of buying a used car with a Seller's Edge Warranty are numerous, and turn what can be a high-risk purchase into one that comes with the comfort of a warranty not unlike you would obtain at a dealership. And it's the first time a used car warranty can be obtained for a private sale between two individuals. The warranty assures you that the car you're buying has passed an intensive inspection. In fact, Seller's Edge is so confident in the car, that the company is willing to issue a factory-type power train warranty in case a covered repair is required to the car within 3 months after purchasing it. Plus, you can relax in the knowledge that the Seller's Edge Warranty is backed by America's number one service contract provider that has been in the automotive insurance industry for 25 years, and is endorsed by the Better Business Bureau.
Activating the warranty after a car is purchased is incredibly easy. The seller will provide the buyer with documentation and an activation code. The buyer simply enters the activation code at the Seller's Edge website and it's up and running! There is no arbitrary waiting period, and if for some reason a repair is required during the 3-month warranty period, the owner can take their vehicle to any reputable repair facility near their home or office.
It's that easy – and that smart.