The Untitled Magazine Releases The #GirlPower Issue
Industry: Publishing
On September 16th, The Untitled Magazine released The #GirlPower Issue, a special 240-page collector's print edition dedicated to gender equality and female empowerment.
New York, New York (PRUnderground) September 23rd, 2015
The Untitled Magazine #GirlPower Issue presents some of the most inspirational women on the radar today across the arenas of fashion, film, music, art, business, politics, tech and sports. The 240-page issue, which released this September 2015 in over 30 countries, was photographed exclusively by female photographers and written exclusively by female journalists. The special collector's print edition, which is dedicated to gender equality and female empowerment, features front covers of Charli XCX, Naomie Harris, Rebecca Ferguson, Lizzy Caplan and Banks, with back covers of Lydia Hearst, Marina & The Diamonds, Sharaya J, Say Lou Lou and Aimée Osbourne.
Editor-in-chief, Indira Cesarine, stated regarding The #GirlPower Issue, "The #GirlPower issue is a celebration of femininity in all its forms. I wanted to shape this issue with the perspectives and voices of women today; what inspires us and what challenges our ideologies. It was brought together by hundreds of women from around the globe who came together to celebrate the theme, and features over 60 original photo shoots and interviews."
Highlights include exclusives with Bond actress Naomie Harris; Rebecca Ferguson, star of Mission Impossible: Rogue Nation; Lizzy Caplan of Masters of Sex and Sophie Turner, star of Games of Thrones. Musicians Charli XCX, Banks, Carly Rae Jepsen, Marina & The Diamonds, NERVO, Sharaya J, and Tove Lo opened up about their paths to success and inspirations along the way. Street artist Swoon talks about art and activism, while we gained insight from fashion moguls Carmen Busquets, Alexandra Wilkis Wilson and Lauren Santo Domingo. Model-turned-actress Lydia Hearst shared her career ambitions, while plus-sized model Tess Holliday challenges stereotypes with her inspirational life story. These are just a few of the incredible women interviewed for this issue, which was curated by editor-in-chief Indira Cesarine.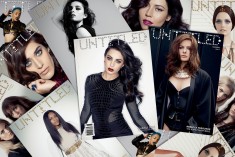 Additional exclusives include: Alanna Masterson, Ana Ivanovic, Arghavan, Bebe Rexha, Betty Who, Camren Bicondova, Carly Rae Jepsen, CocoRosie, Dead Sara, Elle King, Elliphant, Flo Morrissey, Gemma Chan, Grace Chatto, Hannah Cohen, Holland Roden, Isabella Manfredi, Ivy Levan, Jacquie Lee, Jess Glynne, Jesse Jo Stark, Jessic Szohr, Justine Skye, Kerris Dorsey, Kimbra, Leah Jung, Lenka, Limor Fried, Lizzie Brochere, Lizzy Plapinger, Lynn Gvnn, Madison Beer, Melanie Martinez, Neon Hitch, NERVO, Nicky Hilton, Ophelia Lovibond, Petite Meller, PINS, Roisin Murphy, Rosie Lowe, Ruby Rose, Sophie Turner, Tamera Foster, Tess Holliday, Tove Lo, Tove Styrke, Yelle
The Untitled Magazine's #GirlPower Issue is available for purchase on newsstands in over 30 countries, including fine retailers such as Barnes & Noble, Colette, Selfridges and Hudson News. Also stay tuned for the digital and app edition featuring an additional 100 pages of content and behind-the-scenes videos.
Preview the Issue here:  www.untitled-magazine.com/issue8preview
About The Untitled Magazine
About The Untitled Magazine:
Fashion, art, film, music, photography, culture, controversy, exploration and expression… THE UNTITLED MAGAZINE is the new wave forward.
The Untitled Magazine presents a multi-sensory journey fusing the entertainment, fashion and art worlds in a dynamic and compelling way. From cutting-edge editorials to interviews with internationally recognized artists, The Untitled Magazine speaks to a multicultural following. The publication strives to present the most inspirational talent in entertainment, fashion and contemporary art – positive role models that inspire creative audiences with an eye for originality.
The Untitled Magazine is available for purchase in over 30 countries, including the US, Canada, UK, Throughout Europe, China, Japan, Australia and many more global locations. Look out for it at high end retailers including Barnes & Noble, Colette, WH Smith, Waterstone's, Selfridges, Hudson News, among many others worldwide.
The publication has been invited to exhibit its original video productions at the Metropolitan Museum of Art, at fundraisers for the Louvre Museum, at Art Basel Miami and Cannes Film Festival, among many other exhibits and screenings internationally. Aside from its renowned editorial productions, the magazine presents extensive photo and video coverage of international fashion weeks, contemporary art exhibits, film & music festivals and other global events on its online edition, as well as exclusive interviews and news on contemporary culture.
For more information visit http://untitled-magazine.com
For retail distribution visit http://untitled-magazine.com/purchase
Follow The Untitled Magazine:
https://www.facebook.com/TheUntitledMagazine
https://twitter.com/TheUntitledMag
http://theuntitledmagazine.tumblr.com/
http://instagram.com/theuntitledmagazine