The Petite Anse Hotel in Grenada Announces Special Offers for 2015
Industry: Hotels
One of the island's most popular spots, the Petite Anse Hotel located in Sauteurs, has released its special offers for 2015.
Sauteurs, Grenada (PRUnderground) February 4th, 2015
Visitors are drawn from all over the world to the relaxation that is on offer from the beautiful Caribbean island of Grenada. The warm climate, friendly people and the laid back atmosphere is something that really appeals to travellers.
One of the island's most popular spots, the Petite Anse Hotel located in Sauteurs, has released its special offers for 2015.
West Indies vs England Test Match Cricket in Grenada
Stay with Petite Anse Hotel in Grenada 21 – 25 April 2015. Guests will be taken to the game daily, with plans to travel down the island on a boat at least once. The view of the Grenada from the water is not to be missed.
Special offer – 1 May – 31 August – Stay 7 nights or more for 7.5% discount
The summertime is offseason in the Caribbean and there are some good offers to be bagged. The extended stay package at Petite Anse includes breakfast and is also available at a further discount to residents of Grenada. When it comes to things to do, there are plenty of ways to find entertainment including watching leatherback turtles on the nearby nesting beach. Leading up to July, it's possible watch the laying of the eggs, followed by the hatchlings making their great escape to the shoreline.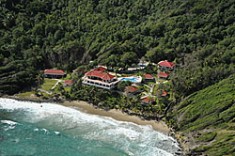 Grenada Special Offer – 1 September 2015 – 15 October 2015
Enjoy 20% off the rate during this time. It's a traditionally quieter period that has a particular appeal to guests who are looking for peaceful tranquillity. Take advantage of the trip to nearby Sandy Island that has some of the best snorkelling and a BBQ fish lunch included.
Christmas 2015 and New Year's Eve 2015
Escape from the cold with a Caribbean Christmas. Stay on for New Year and it's possible to snorkel, swim, hike and take in local nature whilst other countries suffer from the coldest and dreariest of weather.
To book with Petite Anse Hotel in Grenada click here.
About Petite Anse Hotel
Built on a pinnacle of land overlooking a stunning beach and the Caribbean Sea, all the way to the Grenadine islands, there are 11 cottages and 2 deluxe suites. Each room has a view of the sea and is within easy access of the beach and the pool. There is Wifi, a private balcony or verandah and access to a variety of activities such as visiting tropical paradise of nearby Sandy Island and the culture and history of Belmont Plantation. Most suited to those who like good food, a laid back atmosphere and to go off the beaten track, the hotel is located on the north coast of Grenada where the breeze removes the fire from the heat.