The Memory Journalists Release Selfie Stick Etiquette Rules
Industry: Photography
The list of facilities, events, and attractions banning selfie sticks continues to grow, and one photography company hopes to spread selfie stick usage guidelines
SACRAMENTO, CALIFORNIA (PRUnderground) October 19th, 2015
The Memory Journalists team hopes to raise awareness for selfie stick etiquette with a newly released guideline of selfie stick usage rules. By helping people be more considerate with their selfie stick usage, The Memory Journalists hope to help reduce the number of facilities that are deciding to ban selfie sticks from their premises.
Many major parks, attractions, landmarks, and events have decided to ban selfie sticks from their properties, citing various reasons. Selfie sticks seem to get in the way, and they can cause accidents. Many people feel that selfie sticks usage is rude, but The Memory Journalists believe when selfie sticks are used responsibly, the devices can help create lasting memories.
The list of places where selfie sticks aren't allowed currently includes Disney, Six Flags, The Colosseum in Rome, Comic-Con, The Kentucky Derby, 19 Smithsonian attractions, The Palace of Versailles in Paris, and the Pope's upcoming visit to Washington, D.C., on September 24, 2015.
If people are unsure of whether or not they are allowed to bring their selfie sticks to a specific venue, The Memory Journalists advise that the inquire beforehand. Many such policies can be found on venue websites or by calling.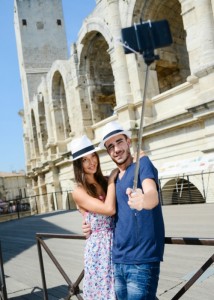 For venues where selfie sticks are still allowed, The Memory Journalists advise people to remain considerate of those around them. By following a few simple rules of thumb, selfie sticks could be allowed into many venues for a long time. For instance, if people are at a concert and want to take a photo using a selfie stick, The Memory Journalists advise that they move out of other people's line of sight. By not blocking people's view, concert-goers can capture a priceless photo without impeding other people's experience.
"A selfie stick isn't just a silly toy for tourists. When used the right away, it can be part of your professional photography arsenal," said George, a recent Memory Journalists Selfie Stick customer.
If people are at a museum or other attraction, they are advised to wait until no one is in front of the attraction before attempting a selfie. If there is a line, The Memory Journalists recommend waiting in turn. In addition, if there is a curator or guide standing nearby, The Memory Journalists reminds people that it is proper etiquette to ask permission before taking a photo with an attraction.
Selfie sticks are rising in popularity, and a growing number of venues seem to be banning the devices.
"Selfie sticks can be embarrassing, but it's better than asking strangers to take your photos, and you just have to use it wisely," commented one recent selfie stick purchaser.
By reminding people to remain considerate with their selfie stick usage, The Memory Journalists feel that the number of venues that allow selfie sticks could grow. More information can be found at http://www.memoryjournalists.com.
About The Memory Journalists
Founded in 2004, The Memory Journalists is a Northern California based photography studio.