The Memory Journalists MJ Selfie Pro launches
Industry: Photography
New Improved Selfie Stick Made by Professional Photographer
SACRAMENTO, Cal. (PRUnderground) July 21st, 2015
For the love of photography, and over 11 years in business, The Memory Journalists are extremely excited to launch their first online product.  The MJ Selfie Pro selfie stick  is now available only on Amazon.  It's a much improved and easier to use model made by professional photographers for the general 'selfie-crazed' public.
It has all the latest benefits and improvements:
Wider universal head grip to fit most smartphones and cases (including Otterbox cases).
Built-in bluetooth capability connects to your smartphone right away instead of having to install special apps on your phone and use a cable to connect.  Some older selfie models even required a separate remote to trigger the shutter.
The handle isn't made of rubber and doesn't shift around, making the connection with the button inoperable.
The head folds down making the selfie stick just over 7 inches in length, making it the smallest selfie stick on the market.  It fits nicely into a pocket or purse.
The head grip is made out of silicone, not a hard plastic, so that phones aren't scratched.
Consumers shouldn't necessarily be deterred by the recent news of Disneyland banning selfie sticks.  There are innovative ways to use the MJ Selfie Pro selfie stick many other places.  Use it for a DIY photo booth at a wedding or as photo booth props.  Simply show off an outfit and post it to instagram or snapchat.  Don't chase down the kids (or husband) again to take a family photo because having a selfie stick makes photo taking more fun with a gadget.  Never again ask a stranger to take a photo while traveling.  When it comes to making memories with pets, it's vastly easier capturing their fast paws when they are entertained from above and a photo is taken from below. Take a selfie anytime.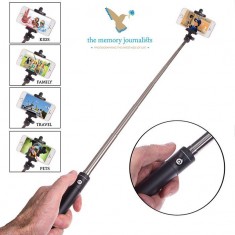 Many people have a love and hate relationship for selfie sticks, but Jennifer and Cory Starr, owners of The Memory Journalists, rounded up and tested over 30 different kinds, and according to them, "this is the best model out there."  Jennifer laughed, "I'm not sure what we're going to do with the various 30+ we own now!  Anyone have any good charity ideas to give them to?"
The possibilities are endless, and the pocket size makes it easy to carry it everywhere. Think about compatibility and convenience.  Just simply click away.  It's easy to love this product for its durability and flexibility when capturing memories. Given that the selfie craze is here to stay for a while, everyone may as well join in the fun.
Read more about The Memory Journalists Selfie Stick.  It started selling on Amazon on July 10, 2015 and is currently listed at $19.99 at the time of press release.
About The Memory Journalists
Founded in 2004, The Memory Journalists is a Northern California based photography studio.