The Dictator arrives in style, in orange Lamborghini with Limo Broker
Industry: Car Rentals
The Dictator, Sacha Baron Cohen's arrives in style at world premiere.. Orange Lambo courtesy of Limo Broker.
London (PRUnderground) May 12th, 2012
The world premiere for Sacha Baron Cohen's brand new movie, The Dictator, took place at London's Royal Festival Hall last night with the movie's star and creator arriving in attention-grabbing style in a bright orange Lamborghini supplied by Limo Broker.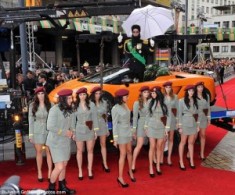 Dressed in an army costume and sporting a full beard, the British actor and comedian arrived on the red carpet onboard the luxury sports car which had to be transported by a tow truck. Surrounded by a bevy of women dressed in army uniform, Sacha Baron Cohen greeted the waiting crowds and photographers in character as Admiral General Aladeen, brandishing a gold hand gun.
Former Harrods owner, Mohamed Al Fayed joined the controversial star on the red carpet to pose for the photographers alongside the orange Lamborghini supplied by the UK's leading supplier of luxury car and limo hire.
The stunning Lamborghini was centre stage at the world premiere which was attended by a whole host of celebrity guests including Sacha Baron Cohen's wife and actress, Isla Fisher, also TOWIE star Jessica Wright, ex boxer Joe Calzaghe and actress Anna Faris who also stars in the movie.
The official trailer for The Dictator is available to view now online, with the movie due to release in cinemas across the UK from next week. Check out the official pictures from the premiere featuring the Limo Broker Lamborghini.
About LIMO BROKER ®
Limo Broker is the UK's leading limousine hire brokerage service, working with some of the UK's top limo companies to offer a national limo hire service, unmatched by any of our competitors. Having many years of combined experience we know exactly what it takes to organise limo hire for a whole range of events from limo hire for weddings to corporate hospitality events. No matter what your event requires, chances are we've done something similar in the past and can arrange every detail for you.