The Aston Martin V12 Zagato Heads for Kuwait and the Rapide Collects another Award
Industry: Automotive
The esteemed luxury sports car manufacturer Aston Martin has confirmed their first production V12 Zagato will be debuting at the forthcoming Kuwait Concours d'Elegance and the Aston Martin Rapide Collects another Award in Switzerland.
Surrey, London (PRUnderground) February 3rd, 2012
The esteemed luxury sports car manufacturer Aston Martin has confirmed their first production V12 Zagato will be debuting at the forthcoming Kuwait Concours d'Elegance, taking place between the 15th and 18th February. This is a unique event within the Middle East solely dedicated to luxury cars, and will be displaying some of the world's finest automotive art from over 19 countries.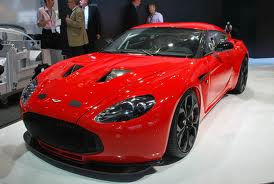 The new hand-built Aston Martin V12 Zagato marks more than 50 years since the now iconic DB4GT Zagato made its introduction. The new V12 Aston Martin and Zagato is a collaboration which has created a modern interpretation of the classic model, which is true to its original focus of craftsmanship, exclusivity and performance. So take a look in your local Aston Martin dealership – you just might be able to see one there too.
Also in the Aston Martin news is their 'Four-Door' Rapide model, as it has recently walked away with two highly prestigious awards. The first was from the German car magazine Auto Zeitung which saw the Aston Martin's elite 5-door Rapide win the much coveted German Auto-Trophy Award.
The magazine's readers were invited to participate in the poll which saw a staggering 98,000 readers participate, who were asked to choose from almost 400 models across 29 vehicle categories. Aston Martin was also chosen for second places with the Aston Martin Virage and the DBS, as well as third places for the Aston Martin DB9 Volante convertible and the V8 Vantage.
Next, the Newport Pagnell based luxury sports car manufacturer was voted as the winner of the 'Best Cars 2012' poll by the readership of the Swiss Auto Illustrierte magazine for the Aston Martin Rapide once again.
The coveted award highlights the technical design, superior craftsmanship and prestigious luxury which are all hallmarks of the Aston Martin range. But the Aston Martin Rapide stood head and shoulders above the stiff competition and added yet another trophy to the Rapide's trophy cabinet.
Alternatively, if you don't happen to be heading to Kuwait in the near future or you missed out on the Rapide's award presentations, you could always choose to visit Romans International and see our range of prestigious Aston Martin cars in stock; we always have an extensive range of premium quality luxury and performance cars at our Luxury Car Dealership in Surrey. We are one of the top Aston Martin specialists in the UK, with a reputation which is second to none.
Editors Notes:
Romans International is just one of a handful of dealers within Europe who possess an extensive and often exclusive range of the most desirable and exceptional models available: Aston Martin, Bentley, Bugatti, Ferrari, Lamborghini Mercedes, Porsche and Land Rover, along with their reputation which is second to none.
All Romans International's advertised range is physical stock, which gives them flexibility to satisfy the customer needs, when making a purchase. They can make the whole process easy and efficient, as customers can literally arrange a viewing for their desired vehicle, arrange payment and simply drive it away there and then.
So if you would like to talk to Romans International about any of their luxury sports cars that they currently have in stock, or even possibly about any particular car brands or models they could source for you, then do not hesitate to them today – 0844 249 5186 for further details.
About