Testing Performed by Ambient Bamboo Floors Supports Bamboo as Safe Formaldehyde-Free Flooring Option
Industry: Flooring
Ambient Bamboo Floors is proud to announce that its floors have been tested and meet the CARB Phase 2 standard.
Jessup, MD (PRUnderground) June 16th, 2015
In light of the recent findings showing that distributors in North America have been selling flooring materials containing unsafe levels of formaldehyde, concerns over chemical emissions within the home have put the public on high alert about this and other potentially harmful substances.  A  recent round of testing conducted in Q1 2015 shows that Ambient's bamboo flooring, eucalyptus flooring, and bamboo plywood panels have been found to be 100% free of volatile organic compounds (VOCs) and well within the CARB Phase 2 indoor air emissions standard, which is the strictest in the world.
"The safety of the flooring that we live and play on has always been an important factor in our daily lives," says Jared Saunders of Ambient Bamboo Floors. "The public is beginning to pay more attention to the substances that are found in their homes, especially where safety is concerned, and it's important to make an informed decision.  After doing their research, most homeowners find that bamboo is in fact a very safe choice in flooring materials."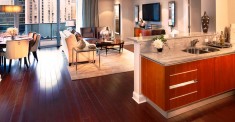 Formaldehyde is normally present at low levels in both indoor and outdoor air.  However, when this harmful gas reaches unsafe levels, it can result in a variety of adverse health effects.  Negative effects of exposure to formaldehyde at unsafe levels, such as those resulting from the installation of certain brands of laminate and wood flooring, may include skin irritation, irritation of the eyes and upper respiratory tract, severe allergic reactions, and flu-like symptoms.
For more information about the tests conducted by Ambient Bamboo Floors, please contact the company directly or visit http://www.ambientbp.com/eco-friendly-flooring.php.
About Ambient Bamboo Floors
No one takes eco-friendly flooring more seriously than Ambient Bamboo Floors. Since 2005, safety, quality and value have been the guiding principles of our business. We're a leader in sustainable products that look great, last long and are good for the environment. Our bamboo is harvested from Forest Stewardship Council certified well-managed forests, and we are members of the US Green Building Council.
All our products are lab-tested annually for formaldehyde and other volatile organic compounds (VOCs). Our products exceed the standards set out by the California Air Resources Board (phase one and two), the Occupational Safety and Health Administration (OSHA), the International Standards Association, and European indoor air quality standards (E0 and E1).