Teiron Dynamics Studio Launches Kickstarter Campaign for Latest Creation
Industry: Technology
The Infinite M offers truly wireless, on-the-go charging
CHAMPAIGN, ILLINOIS (PRUnderground) September 6th, 2015
The Teiron Dynamics Studio team has announced a crowdfunding campaign to fund their latest innovation, the Infinite M. The all-new device delivers truly wireless charging that can be seamlessly harnessed anytime whether it's at work, at home, or on-the-go.
Contemporary chargers, including portable chargers, require the user to connect a cable to charge the phone or device. However, with the Infinite M, consumers can simply place their phone atop the device for an easy and effective charge. Available in a two-part, expandable modular unit, the Infinite M can be used virtually anywhere.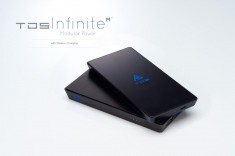 The Infinite M offers a robust design with features such as 6000 mAh battery cell, impact resistant glass, aircraft grade aluminum, and is built to charge fast. With a 2.1A output and input, ensures that it can charge smartphones or tablets two times the speed compared to standard apple wall charger. The product's design language was purposely selected to improve grip without leaving out a sleek and sophisticated look.
Teiron Dynamic Studio's purpose of launching the Kickstarter campaign is to not only raise awareness, but also to fund production costs.
"Not just a battery or wireless charger, the TDS Infinite Modular platform provides innovative functionality and infinite possibilities," said the Teiron Dynamics Studio team.
The crowdfunding project has been launched as the Infinite M undergoes its last rounds of refinement, and soon, the innovative charger will undergo a production run. Since prototypes have offered perfect performance, the Teiron Dynamics Studio team foresees no issues when it comes to going forth with November 2015 production.
"All funds received through the Kickstarter project will be directly put into the production run's budget. This includes quality assurance, logistics (worldwide shipping), as well as a new platform for customer service," said the staff at Teiron Dynamics Studio.
Backers will receive exclusive perks that include Infinite M packages. With the campaign's success, the Infinite M is shipping early December, just in time for holidays. The company is also planning to launch wireless storage and solar modules in January 2016.
More information about the Infinite M can be found at https://www.kickstarter.com/projects/472321202/infinite-m-modular-power-with-wireless-charging/description.
About Teiron Dynamics Studio
Teiron Dynamics Studio is an international collaborative of entrepreneurs who have come together to share their vision for the future of mobile technology by designing and manufacturing clever, brilliantly designed products that bridge the gap between technology and user-friendliness.
Teiron Dynamics Studio was launched in 2013.