Swan Racing's #26 Car Qualifies For NASCAR's Biggest Race Daytona 500
Industry: NASCAR
Swan Energy, sponsor of NASCAR Swan Racing Team, is excited to announce that on Thursday, February 21st, the #26 car driven by Micheal Waltrip qualified for Daytona 500
Denver, Colorado (PRUnderground) February 22nd, 2013
Swan Energy, one of the primary sponsors of Swan Racing, is excited to announce that on Thursday, February 21st, the #26 car driven by Micheal Waltrip qualified for Daytona 500.   Normally, Swan Racing competes in the NASCAR Sprint Cup Series in the #30 driven by David Stremme.  However, this Daytona 500 is special for Swan Energy, Micheal Waltrip, Swan Racing and the NASCAR nation.   The #26 car is racing, outfitted in green and white paint, to honor the victims of last year's school shooting in Newtown, Connecticut.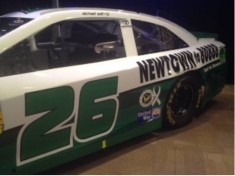 Brandon Davis, CEO of Swan Energy and Swan Racing Owner, summed up the emotions of qualifying in an article by David Caraviello at NASCAR.com, "Missing the race wasn't an option, as far as I was concerned," said Davis, who late last year purchased the assets of the Inception Motorsports team owned by David Stremme. "We had a lot of pressure, our team is new, and we're not heavily funded. We're making our way through this. It was a load. It was a lot for me to sit out there for my first Daytona 500, and watching the race, and we're running up front and then the caution — I about lost it. It was nerve-wracking."
The whole team felt the pressure to qualify for the Daytona 500 as the No. 26 car is also raising money for the Sandy Hook School Support Fund through a texting campaign.  Funds will be raised by texting "Newtown" to the Number 80888.  Each text will donate $10.
Micheal Waltrip, driving the No. 26, car was moving towards the front with Denny Hamlin and Trevor Bayne trailing close when Hamlin and Bayne were Suddenly  in an accident.
Gaining a qualifying spot at the Daytona 500 via Daytona Duel was a tense day for all who were involved with the No. 26 car.  Brandon Davis said, "For the families and everything they're going through right now — I hope this gave them as much excitement as it did for us. I hope that it passed through. Because it was tense, to say the least."
Join Swan Energy in your support of the No. 26 Sunday, February 24th at NASCAR's biggest race – the Daytona 500.
About Swan Energy Inc
Swan Energy Inc. is an independent oil and natural gas company based in Denver, Colorado.
Swan Energy continues its long-term commitment to the exploration and production of proven oil and gas fields; specializing in the acquisition and development of domestic oil and natural gas fields in petroleum-rich areas across the United States.