Success for the first edition of FestivalAsia ®, the unique pan-Asian event in London
Industry: Festivals
FestivalAsia ®, the only London event on all things Asian, held its successful first edition in May 15-17th, 2015
United Kingdom (PRUnderground) May 28th, 2015
The first ever FestivalAsia ® took place in London's Tobacco Dock on 15th, 16th and 17th May, 2015 showcasing almost anything one can think of related to Asia: from taiko drumming to belly dancing to street food, martial arts, language lessons, spiritual experiences and above all lots of fun.
The well attended performance stage has seen alternating artists representing China, Korea, Indonesia, Japan, Thailand, and more: hours of non-stop Asian music and dance.
One of the highlights of FestivalAsia ® was the Indonesian Pavilion featuring food, travel, culture from fascinating Indonesia.
The amazing Taiko West drummers have given splendid performances as well as a very popular workshop. Other popular workshops have been Mandarin and calligraphy lessons by Magna Mandarin, yoga from Dahn Yoga, meditation from Sahaja Yoga, SOAS languages, and the British Go Association's – promoting the ancient game of Go in the UK.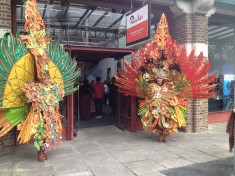 The two food courts presented a wide variety of food from, among others: Indonesia, Thailand, China, Japan, Taiwan, Malaysia, Korea, Indian and fusion. From bubble tea to pad thai!
The martial arts stage offered a non-stop experience with dozens of groups demonstrating the many different Asian martial arts.
FestivalAsia ® is created and produced by Lilisan Ltd (a branch of World Concert Artists Ltd) in collaboration with Barley Arts International Ltd. Lycamobile sponsor.
For a full list of partners, exhibitors, artists, martial arts groups and various participants, check www.festivalasia.co.uk and our Facebook and Twitter.
FestivalAsia will be back in 2016; dates will be announced shortly.
About World Concert Artists
World Concert Artists: International Entertainment Agency, Booking Agents for Artists, Shows, Exhibitions. Entertainment providers for Corporate Events & Private Parties, Booking for Festivals, TV and Special Events, Management.