Sterling Rose Consulting Corp Named IMPACT Regional Business Awards Finalist
Industry: Business
May 13th IMPACT Regional Business Awards to celebrate premier organizations driving economic development and job creation
Gwinnett County (METRO ATLANTA) GA (PRUnderground) May 13th, 2015
Sterling Rose Consulting Corp has been recognized as a finalist in the IMPACT Regional Business Awards.
Presented by BB&T and hosted by the Gwinnett Chamber the IMPACT Regional Business Awards will honor and celebrate exemplary organizations from the community at a luncheon ceremony on Thursday, May 13 from 11:30 a.m.-1:30 p.m. at the Gwinnett Center.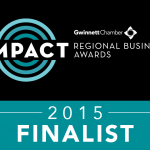 "I want to personally thank everyone in Gwinnett County, all of our current and past clients and all of our staff for nominating Sterling Rose Consulting Corp for this honor. We, at Sterling Rose Consulting Corp, are so humbled by the recognition we have received from this honor," stated CEO and Founder of Sterling Rose Consulting Corp, Vlad Rusz.
Designed to be reflective and unique to Gwinnett and across the metro Atlanta area, the IMPACT Regional Business Awards recognizes best-in-class organizations in the following areas:
Builder
Education
Entrepreneur (Established and Pre-Venture)
Healthcare
Hospitality
Information Technology
International
Nonprofit
Service industry
Small business
An overall Impact Regional Business Awards recipient will be selected from one of the above category winners.
"The IMPACT Regional Business Awards celebrate premier organizations in critical industries that are driving economic development and job creation, while enhancing our quality of life," said Dr. Dan Kaufman, President & CEO of the Gwinnett Chamber. "They represent the creativity, determination, and engagement of our business community and are examples of the enormous contributions of Gwinnett businesses and their employees."
Contact Gwinnett Chamber Programs & Events Manager Cally D'Angelo at 678.957.4958 or CDAngelo@GwinnettChamber.org for partnership opportunities or with questions.
MEDIA CONTACT: Gwendolyn Moore | 678-892-8528|info@sterlingroseconsultingcorp.com
PROGRAM CONTACT: Cally D'Angelo |678.957.4958 |cdangelo@gwinnettchamber.org
About Sterling Rose Consulting Corp
Sterling Rose Consulting Corp.is a full-service marketing,financial & business consulting firm.We incorporate multi-channel and multi-vertical knowledge and best practices into targeted and actionable online and offline marketing,public relations,advertising, business consulting,business operations,business planning,market research,competitive intelligence, accounting,finance and growth strategies.Sterling Rose has successfully created and launched over 250 marketing plans,500 investor ready business plans and 1,000 market/competitive research reports. 92% of our business plans have resulted in acquisitions of SBA, Angel, Series A Factoring, among others.