Spoonful of Comfort's Winter Soup Means Getting Better Never Tasted So Good
Industry: Gifts
Famous soup-delivery aficionados continue the 2014's Q4 holiday success with new winter gift ideas.
Salt Lake City, Utah (PRUnderground) January 28th, 2015
Winter is here – and with it come the sniffles and sneezes of flu season. When a loved one is under the weather, Spoonful of Comfort has the perfect way to get them over their misery.
A Get Well package from Spoonful of Comfort includes a generous 64oz jar of ready-to-eat soup, plus six rolls, six cookies, and a ladle to serve up the smiles. Best of all, the gift is delivered right to a recipient's door (no germs exchanged!).
The thoughtful gesture alone is enough to make anyone feel good. But there's actual science behind soup and its curing properties. Hot soup helps relieve symptoms like stuffiness, congestion, and sore throat. It's also essential in preventing dehydration, a common effect from fever. Gift givers can go an extra step to encourage "plenty of rest" by adding a warm blanket or cozy socks to the package.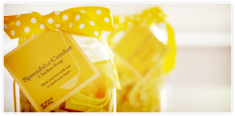 Spoonful of Comfort packages begin at $59.99 and include the sender's personal message on a hand-written card. It's a gift that may well be the most effective get-well wish you can send. Place orders at 877-404-7678 or customize a package at www.SpoonfulOfComfort.com.
About Spoonful of Comfort
Soup is just one of many thoughtful gift ideas Spoonful of Comfort has been simmering up since 2008. The company is dedicated to the memory of Mona Bowes: mother, friend, and chicken soup connoisseur.