SouIinHeaven – The interactive 3D cemetery that lasts forever
Industry: Computer Software/Services
SoulinHeaven, a virtual 3D cemetery, is striking out on a new, innovative path. The website is interactively connected with Unity 3D gaming software.
Florida (PRUnderground) July 9th, 2015
www.soulinheaven.com (SiH) is an inter-religious, virtual 3D cemetery for people and animals, or any other losses. SoulinHeaven respects every form of grief.
Traditional cemeteries are strictly regulated and have a limited period of use. SoulInHeaven remains open at all times, whatever the weather. Whether you live far away, are short on time, or have mobility problems, SiH is just a mouse click away.
The cemetery is embedded in a sea of clouds. The resting places for people, premature babies, animals, relationships, and things are placed separate from one another. SoulInHeaven provides a book of condolences, helpful reminder services, and personalized grave design.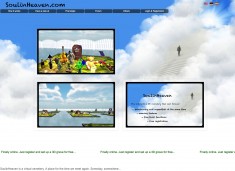 The state-of-the-art Unity 3D software that has been borrowed from the world of gaming really animates the cemetery. More than 20 different 3D gimmicks such as flowers, candles, windmills, teddy bears and others are available to choose from.
The user also has the option of uploading other adornments such as photos or a biography, protecting the grave with a password, and more.
SoulInHeaven performed a survey (362 answers), which showed that 82% of the participants were unaware of the concept of a virtual cemetery. 48% of them said they would make use of a virtual cemetery as an additional resting place in the future.
SoulInHeaven is linked to Facebook. The graves are never removed and the basic version of SoulInHeaven is free to use.
About Monmak24 Inc.