Social Media Press Release Expert To Speak At WordCamp NYC 2012
Industry: Wordpress
Google Loves WordPress - Blogging For SEO will be the topic of PR Underground Editor-in-Chief, Alex Miranda's presentation at WordCamp NYC 2012.
New York, NY (PRUnderground) May 9th, 2012
The Speakers for WordCamp NYC 2012 were announced this week. Speaking for the second year will be our very own Editor-in-Chief Alex Miranda. At WordCamp NYC 2010 Alex presented about WordPress SEO for beginners. This year he promises to give attendees a presentation that must not be missed.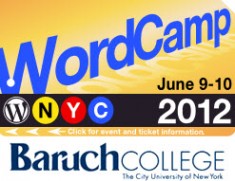 His presentation this year will be called "Google Loves WordPress – Blogging For SEO." The presentation will focus on the love affair between WordPress and Google has came out with many new updates that are a match made in heaven for WordPress users. In his presentation he will cover the following:
1. Awesome plugins to supercharge your WordPress Blog
2. The hidden WordPress SEO features most people miss
3. Using Tags for greater exposure
4. Bookmarking sites, social media & press releases
5. How to optimize your WordPress blog for competitive search terms
And so much more….
This year WordCamp NYC 2012 will be June 9th – 10th at Baruch College in NYC. There will be over 60 sessions for this 2 day extravaganza. Many well known speakers will be presenting at the NYC WordCamp. It is also a great place to network and have all your technical questions answered by some of the WordPress rock stars.
About Alex Miranda:
Alex is the assistant of the Hudson Valley WordPress Meetup group organizer. He is known for his $20, 5 minutes on top of Google strategy. Alex has written many great post about ranking on Google, social media press releases and blogging strategy. At Marknet Group Inc, Alex is the in house SEO manager. He is also the former co-organizer of the WordPress  Westchester Meetup group.  His social media press release company, PR Underground is 100% powered by WordPress.
About WordCamp NYC 2012:
WordCamp is a conference that focuses on everything WordPress. They are put together by WordPress users. There are over 200 WordCamps in 116 cities, 38 countries and 6 continents. Considering that fact that WordPress powers over 25 million websites across the globe, WordCamps are a huge deal for both attendees and speakers.
WordCamp NYC is organized every year by volunteers with assistance from the WordPress Foundation. This years core organizers include: Steve bruner, Tim Beckett, Krista Gonzalez, Andrew Christian, Kevin Cristiano, Rindy Portfolio and Dana Skallman. You can follow them on twitter at WordCampNYC. Hashtag #WCNYC
About