Smart Charging Systems from Southern States Motive Power improve warehouse productivity and save mon
Industry: Manufacturing
By setting up intelligent systems with SMART battery & charging products, Southern States has been helping customers lower costs, improve safety & increase productivity.
Tampa, Florida (PRUnderground) September 14th, 2015
Southern States Motive Power, a Tampa-based company specializing in forklift batteries and chargers, has been getting a lot of love from their customers.  The reason? New charging stations with smart chargers, that allow warehouses with extended or multiple shifts to keep their forklifts operating longer hours at reduced costs.
"By setting up intelligent applications with the latest SMART battery and charging products, we have been helping our customers to lower costs, improve safety and increase productivity", explained Bob Fischer, VP of Operations for Southern States.
For a company that only runs one shift, a conventional forklift battery charger is fine.  A forklift battery will typically run about eight hours on a charge. The conventional charger takes eight hours to get the battery up to full charge, and then switches to an eight hour cooling period – ready just in time for the next day's eight hour shift.
Many busy warehouses run multiple shifts, or even round the clock.  With a conventional charger, this would mean keeping extra batteries and switching them when a battery runs out of power. This is an expensive and laborious solution; the warehouse would require a battery changer as well at least one extra battery, or even two extra batteries for 24/7 warehouse operations. Changing batteries that can weigh thousands of pounds uses valuable labor and runs a risk of employee injury. Storage space for the extra batteries is also expensive.
"Smart" chargers can save money and time by keeping the battery on the truck so operations are uninterrupted.  There are two basic kinds of smart charging:
· Opportunity chargers apply a charge of around 25 amps per 100 amp/hours, during odd times during the day when the forklift is not in use – break times, lunch hours etc.  Typically, opportunity chargers will take the battery up to around 80% of capacity during the day and then return the battery to 100% at night. Charging stations can be set up right on the warehouse floor for easy access.
· Fast chargers charge at three to four times the rate of conventional chargers.  Like with opportunity chargers, these charges can be applied during breaks to minimize down time. Batteries are charged to around 80% of capacity, and brought up to full charge once a week.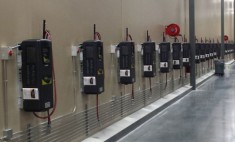 Smart chargers measure temperature, and manage the voltage and current to avoid overheating and minimize gassing. The battery needs to be equipped with water level indicators and temperature sensors, as well as contacts to feed the data back to the charger. Fast charging batteries may also be built with vents between the cells for improved cooling.
Southern States develops customized solutions for specific warehouses, to ensure the system is efficient and easy to use. For more information on smart charging systems, contact Southern States Motive Power at 1-866-350-3593 or visit the website at http://www.ssents.com
About Southern States Enterprises
Southern States Enterprises is a forward thinking material handling company based in Tampa, FL with offices throughout Florida and Georgia. Southern States Enterprises is comprised of three unique companies; Southern States Motive Power, Southern States Storage & Handling and Southern States Dock & Door. Our unique business model provides our customers with the opportunity to have a one stop shop when it comes to having their material handling needs met. Our mission is simple: "We work tirelessly to ensure your complete satisfaction in all we do." Our goal is to bring current cutting edge technology and ideas to our customers as well as providing exceptional value. Our strength is our uniqueness! We encourage you to give Southern States Enterprises an opportunity to earn your business. We look forward to serving you!