Site Rank Data – monitor fluctuations of website traffic and historical rank for 6.5 million sites
Industry: Market Research
SiteRankData is unique because users can see websites that had the most drop or increase in traffic/rank over periods of time, historical rise of a site or competitor.
New York (PRUnderground) December 14th, 2015
December 14, 2015, Montreal company SiteRankData announces public access to its private website ranking database via a new website SiteRankData.com. Over 6.5 millions domain tracked with thousands of new sites being adding daily. Since 2012 Ludar Inc, an internet publishing company has been collecting and using website changes in rank and traffic to predict website and publishers trends. These tools are now publicly available and marketers can watch daily fluctuations of estimated website traffic as well as lengthy historical data going back to 2012.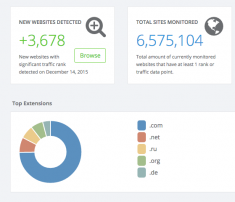 The released data is unique because users can see websites that had the most drop or increase in traffic/rank over periods of time, investigate historical rise of a startup or a competitor. Websites can be discovered via domain extension or keywords. Additional features will be added in the future to create a unique and comprehensive internet market research tool. Visualization of the ranking data is also unique since large time based JavaScript charts are available to explore chronological rank changes.
Site Rank Data is also offering API access to the data for those who will need direct access and additional features. It is not yet available publicly via the website but may be arranged by contacting Ludar Inc directly. Behind the main technology there is also sophisticated blacklist and filtering functions that allow filtering out sites with inappropriate content.
About SiteRankData
Historical and current website trends and data