Sherri Murphy of Elite Connections May Have New Man for Celebrity Gail Porter
Industry: Entertainment
Dating Agency matchmaker to the stars Elite Connections CEO Sherri Murphy might have a man for Gail Porter.
Los Angeles (PRUnderground) January 15th, 2015
Former FHM model and Scottish TV star Gail Porter is said to be considering finding a man with a matchmaker, and Elite Connections CEO Sherri Murphy has some good news for her; she may have found her a new man. Sherri Porter just invited Gail Porter to personally call her, to discuss the possible new flame.  Sherri Murphy www.eliteconnections.com/staff.php)  is the CEO and founder of Elite Connections, a private matchmaking agency.
Sherri Murphy states, "I was once a single mother of two and sick of the dating scene after being single for ten years. Dating presents its own challenges, especially if you are serious about finding the right person, even without the added pressures of being alone during the holiday season."
She adds, "The holidays can really be a tough time for a single person.  Holiday parties are filled with happy couples and, as a single person, you either go alone or with or couple of friends. It ends with New Year's, a holiday celebrated by couples around the world kissing at the stroke of midnight. January begins and you think you have weathered the storm, but before you can put away your holiday decorations, you are surrounded by symbols of what's supposed to be the most romantic day of the year; Valentine's Day."
Sherri continues, "I know how singles feel, because I went through it just the same.  I worked 6-7 days a week as a real estate agent, spending the little free time I had with my children or playing tennis.  Since I refused to date anyone from either work or my tennis club, my options were pretty grim. One day, after a call from a matchmaker, I decided that I'd try something new. If I wanted different results, I had to meet people out of the area I lived and out of my comfort zone. I joined with a professional matchmaker and agreed to my first date with Bill, my now husband."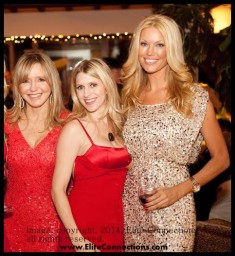 Sherri adds, "I started Elite Connections in 1994 out of necessity. It was impossible to meet decent singles, and everyone needed a safe way to meet new people. I thought it was a fabulous idea. Shortly after, internet dating gained popularity, and I presumed that no one in their right mind would share their personal information online. I never imagined that posting one's photo and private details for the entire world to see was something that would catch on.  I wondered who would ever feel safe meeting total strangers. So, while other matchmaking agencies sold their companies, I persisted, confident that this would not replace the need for reputable matchmaking agencies. Things did get slow for a while, but one thing that quickly became evident was that the married men, liars and weirdos quit calling, and the serious singles slowly started coming back in.  And as our company believed would happen, singles grew tired of dating online which is not as safe or effective, and once again began signing up with us at a record pace."
Sherri Murphy continues, "In this strange economy, finding a partner has become a number one priority for many singles. However, I understand how discouraging the singles scene can be, particularly through the holiday season. The secret is to not give up, and to open yourself to new possibilities. If you are stuck in a dating rut, or are not meeting the kind of singles you are seeking for a lasting relationship, consider that it may be time to change your approach."
Elite Connections was founded 20 years ago in Southern California. Over the past 20 years,  they reportedly expanded to other states and countries, forming lasting relationships around the world due to their matchmakers great success in introducing high caliber, successful individuals to each other with many introductions resulting in long term relationships and marriage." Sherri Murphy's daughter Tammi Pickle  http://www.eliteconnections.com/mother-daughter-matchmakers.php) came to work with her eleven years ago, she now has matchmakers working all throughout Southern California, major U.S. cities and foreign countries. For more information on meeting fabulous singles or becoming a matchmaker, Sherri Murphy wants to invite you to personally contact her at 800-923-4200, for caring, personal attention like only they can deliver. Or visit us on the web at www.eliteconnections.com
About Starpower Management LLC
Starpower Management is a full service model, talent, publishing, production, management and public relations company based in Los Angeles that represents numerous stars, and over 10 billion dollars worth of deals in the area of motion picture, fine art, real estate, and other blue chip investments among more. Its P.R. division includes Hollywood Sentinel Public Relations, and it publishes The Hollywood Sentinel.