SEG Hanging Lightbox, Auratek's Newest Product was Introduced This Past Weekend at Expo West 2015
Industry: Marketing
Auratek, TX based trade show exhibit booth creators launch newest product, showstopper FluidEdge™ Lightbox hanging display for thousands to see
Houston, Texas (PRUnderground) March 13th, 2015
A showstopper LED lightbox hanging display created by Texas designers Auratek Exhibits was the main attraction at last weekend's Natural Products EXPO West 2015 trade show.
Auratek's newest product, the FluidEdge™ Lightbox was showcased at their client ChildLife Essentials' exhibition stand, making them one of the busiest and impressive at the show, held at the Anaheim Convention Centre in California.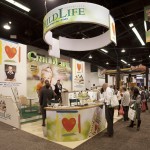 The customized circular FluidEdge™ Lightbox hung 20 feet in the air – creating that all-important stand-out factor at the world's largest natural, organic and healthy products event.
Using SEG (silicone edge graphics), the FluidEdge™ Lightbox, measuring 16 feet across, was constructed using top of the line materials and boasts a virtually tool-free set-up.
Auratek Exhibits has branded this technology as FluidEdge™ Lightbox. It can be customized in any shape, size, and orientation. The framing system is now available for curved elements in any exhibit booth design. Auratek Exhibits is one of the fastest-growing suppliers of SEG custom modular exhibit display systems, and a proud member of the BBB.
Auratek's focus is providing the highest quality products at very competitive prices having partnered with a New Zealand company that supplies all their top of the line, virtually tool-free framing systems.
They've used textiles from numerous companies in the past inside and outside of the United States but found the most gorgeous textiles from a company in Germany. "Look, we like big, we like flashy, we work with business owners who are looking for the most engagement at their event. We get it, and because we understand what our clients want and need while exhibiting, they benefit from us being innovative and they stand out at shows over other exhibitors. We've used textiles from many companies in the past inside and outside of the United States and we like going American any time we can for any element of our displays, but when expectations and standard of quality of our high demanding clients aren't exceeded, we look outside the U.S. We choose to partner with the best product supplier over the cheapest, no matter where they are in the world", says David Patterson, Owner of Auratek Exhibits.
Auratek Exhibits collaborated closely with ChildLife Essential's Vice President, JD Dickinson for several weeks to make this design come to life. "Every inch of this booth was well thought out and planned with very careful detail to materials, and with a vision of excellence as the end result. We wanted to provide an exceptional masterpiece for an exceptional company, and I feel that we've succeeded this vision once again", said David Patterson.
About ChildLife Essentials:
ChildLife Essentials is a dedicated company of our nation that provides nutritional supplements designed for infants and children. They've held awards for "Best and Safest Supplements for Babies and Children, #1 Best Selling Supplement; and #1 Best Selling Brand", several years in a row.
Auratek Exhibits was eager to work with such a prominent company and is proud to have served them well.
About Auratek Exhibits
Full service trade show exhibit displays across the nation. Custom exhibit booths, modular exhibit displays, and island exhibits.