Score the Winning Touchdown at Your Super Bowl XLIX Bash with Celebrity Chef Shehu Fitzgerald
Industry: Food and Drink
Chef Shehu "Coaches" Party Planners on How to Throw the Perfect Football-Watching Get-Together with His Delicious Recipes and Cooking Tips
New York, N.Y. (PRUnderground) January 21st, 2015
Super Bowl Sunday is perennially the most watched American television broadcast of the year and the second-biggest food "holiday" in the United States.  Renowned Celebrity Chef Shehu Fitzgerald – featured on ABC's "The Taste" and The Food Network's program, "Chopped" – can help bring that "big game" excitement to your living room with his delicious recipes, party ideas and cooking tips.
"A Super Bowl party requires the perfect combination of food and entertainment to ensure happy guests and a memorable experience," said New York City native Chef Shehu Fitzgerald. "Whether it's a family gathering or friends getting together, your living room and kitchen spaces should have a variety of tasty dishes that will have your football fanatics as well as you casual fans cheering for more food."
Chef Shehu has spent over twenty years catering large dining events at some of the most acclaimed resorts worldwide. Below, he shares his expert advice on hosting the perfect Super Bowl party:
Remember that Appetizers are Key – Most football fans are looking for staples they would find at any stadium or sports bar – such as nuts, chips and hot dogs.  In fact, some guests might only munch on snacks throughout the game, so it is essential to have a variety of tempting selections.
Provide a Unique Spin on Favorite Fare – Unexpected ingredients can produce delicious dishes that will bring adventure to the Super Bowl party experience. Some creative variations on football favorites include Sweet and Spicy Nuts, Lemon and Cilantro Popcorn, Asian Chicken Wings and Pigs in a Spicy Blanket.
Keep Entrées Simple – Save oven and sink space with one-pot creations, such as cooking chili in one big pot on the stove while preparing pulled pork in a slow cooker.
Rely on "Super Hero" – The 6-foot-sub is considered a "most valuable player" for most Super Bowl gatherings. You can save some of your budget by building it yourself.  Purchase fresh baguettes or Italian bread at your local bakery and trim the ends to line up the bread to create the illusion of one big loaf. Fill it with your favorite deli meats and cheeses, and then slice it into hand size pieces. Offer different dressings to allow your guests to customize their slices.
Save Sweets for the Final Quarter – During that guaranteed tension-filled fourth quarter, many people are rubbing their bellies with their heads propped inches away from big screen TVs, tablets or their smartphones.  Try to keep desserts simple and accessible where your guests can just reach for them without much effort – such as cookies, brownies and football themed cupcakes.
Keep Clean-Up Easy – During this sporting event, forgo the fine china and keep dishwashing at a minimum. Visit your local retailer and stock up on festive coasters, paper plates, napkins, plastic cups, disposable utensils, paper towels (for spills as they happen), sternos, and aluminum pans to display your appetizers and entrees.  It is also important to have plastic food containers handy so your guests can take home some of their favorite dishes at the end of the night.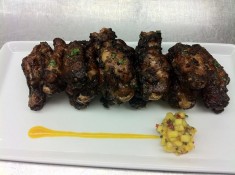 Chef Shehu has posted some of popular Super Bowl recipes – such Sweet and Spicy Nuts, Guacamole, Lemon and Cilantro Popcorn, Asian Fusion Chicken Wings and Chill-Out Chili – on his Website, chefshehu.com.  He will be also post additional recipes and drink ideas before the big game (Sunday, February 1, 2015) so be sure to check his Website often.
About Chef Shehu Fitzgerald
Shehu Fitzgerald is a New York City-based, nationally renowned chef who is known for creating enticing variations of classic American, Asian, Latin, French, Italian and Caribbean cuisine. As a result of his extensive intercontinental culinary training and 20 years of work experience at acclaimed resorts, Chef Shehu has been able to take some of the world's favorite recipes and infuse them with exciting new flavors. His talents were showcased on the Food Network's highly popular "Chopped" program, where he won the show's national competition. Chef Shehu has also recently appeared on "The Taste," an American cooking-themed reality competition series on the ABC TV network. In 2014, Chef Shehu launched Chef Shehu's Spice Blends™, which is a must-have addition for any home or commercial kitchen. These products enhance the flavor of any recipe, including meats, vegetables and side dishes. There are currently six spices in his line – #21, #107, #709, #35, #49 and #7 – and they are all currently available for purchase at chefshehu.com. Chef Shehu's Spice Blends™ will also launch in the retail market in Summer, 2015.