Scientific Technologies Corporation Launches All American Flu Fighters Membership Program
Industry: Healthcare
Aimed at helping pharmacies and employers partner to increase participation at on site clinics. The STC All American Flu Fighters Program helps pharmacies and employers partner to increase on site immunization events, reduce employee sick time and increase revenue.
Scottsdale, Arizona (PRUnderground) July 28th, 2015
Scientific Technologies Corporation (STC) is proud to announce that All American Flu Fighters (A2F2) is now available to the public for a low annual membership fee of just $200. This campaign, whose genesis during the summer of 2013 marked the beginning of a successful test launch has proven to double employee participation in on site immunization events, therefore reducing an employer's sick time and increasing revenue for the on site vaccinator. A2F2 provides employers and vaccinators with a singular theme and set of proven resources to engage employees and drive home the importance of getting immunized and being part of the team. As part of the team, members have access to training webinars, a nurse hotline and a plethora of supporting materials. Most companies merely set up a table and say, "Get your flu shot/Don't get sick." However, All American Flu Fighters changed the message to protecting the team with the popular tagline, "You didn't get it from me!" This new approach combined with a tested roll out method make All American Flu Fighters a great choice for the upcoming flu season.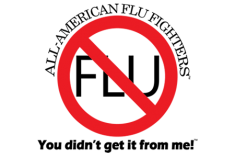 "All American Flu Fighters makes getting a flu shot an admission ticket to a wellness event. We transform something unpleasant that people don't want to think about into something lively that people want to be a part of."
Dale Dauten, Project Manager
"Pharmacists are really the ones to take the country to the next level of vaccinating against diseases, and it's programs like this that affect the CEO and can really have some significant uptake. CEOs get it right away because they are businessmen, and they understand that time is money, so it's easy to get them on board." Mike Popovich, Chief Executive Officer of STC
STC is excited to expand this unique program to interested vaccinators and employers nationwide this upcoming flu season. To become a member visit http://allamericanflufighters.org/.
About Scientific Technologies Corporation
STC is widely recognized as a leading public health informatics company in the U.S. We play a key role in protecting the public from diseases. Since 1988 we have leveraged our experience to develop solutions important to addressing and solving critical public health issues. Our staff is committed to improving public health through the applied use of population health data collected through modernized information systems. Our staff offers a unique blend of public health advisors and applied information system developers who come together to create cost effective public health technology solutions.
We greatly value our relationships with our clients — we host numerous public health improvement events every year, including information exchange summits, user meetings, advanced training, and user consortiums that result in the on-going development and enhancement of current products as well as the next generation of products. The events allow our clients to connect with STC subject matter experts and other state health departments to create a consortium that forms best practices and provides innovative solutions to complex problems. The experience of STC combined with the partnership of our clients provides a critical source of public health information, resulting in:
25,000,000 patients in STC immunization registries
250,000,000 records in STC immunization registries
17,000 providers utilizing STC immunization registries
77,000 users of STC immunization registries
736 electronic vendor links to STC immunization registries
93,000 HL7 messages sent per day through one of STC's state registries.
STC's goal is to continually show our clients the value of investing in public health information technology through high quality service, innovative software solutions, and population-based outcomes. We achieve this goal by delivering and installing quality products and services in a timely and efficient manner. While we take great pride in delivering quality services, we are driven by the fact that we play a key role in protecting children and adults from disease, ultimately creating healthier populations.
Advancing Population Health Outcomes through Information Technology:
Accurate timely information through registries and integrated medical record systems is key to impacting chronic, infectious, and vaccine-preventable disease. Meaningful Use facilitates health policy to increase the health information exchange of public health records from electronic health record systems in clinics and pharmacies. STC provides technology and electronic medical record exchanges to empower consumers, healthcare providers, pharmacists, public health professionals, and health plans with immunization information and decision support. We reinforce information captured through STC-developed state immunization information systems and STC-supported WIR registries with Immunization Intelligence™.