Renewing Serum CE Launched by Las Vegas Beauty & Truth
Industry: Beauty
Beauty & Truth release back-to-back months of new product launches. First, Erase Repair, now Renewing Serum CE.
Las Vegas, Nevada (PRUnderground) November 20th, 2015
Las Vegas-based cosmetics company, Beauty & Truth, is celebrating 2015 as a record year. Fresh from releasing new product Erase Repair HA just last month, Beauty & Truth is proud to announce their latest product, Renewing Serum CE.
Beauty & Truth has built their empire of in-demand cosmetics on the belief that natural ingredients are better ingredients. By driving hydration relief deep into the skin, Renewing Serum CE nourishes from the inside out.
Beauty & Truth's VP of Product Research, Rebecca Thompson, comments on the record rollout of cosmetics. "I said it before with Erase Repair and I'll say it again with Renewing Serum. We've long established our reputation based on proven results. " Mrs. Thompson elaborates. "Our area of expertise has always been complimentary to supporting youthful appearances for our customers."
About Renewing Serum CE
Scientifically formulated to re-hydrate the skin, Renewing Serum CE uses as pure of ingredients as possible.
shea butter
2% hyaluronic acid
water
vegetable collagen
radish root
and more
The hypoallergenic formula is suitable for all skin types. Better yet, Renewing Serum CE prides its formula on being vegan-based, cruelty-free and never tested on animals.
To learn more about Beauty & Truth's diverse line of cosmetics, visit their upcoming site www.renewingserum.com or call 1-866-710-5109.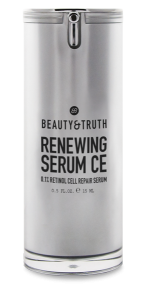 About Renewing Serum CE
Renewing Serum CE designed to awaken the skin's true beauty. With the use of the purest ingredients, this exceptional line of skincare nourishes the skin from the inside out. Active ingredients in Renewing Serum facilitate in trapping moisture, which in turn hydrates the skin, prevents dryness, and addresses skin woes on a cellular level to minimize signs of stress caused by environmental toxins and irritants.