Re-Release of The Regulators: Hell On Earth Part One Announced
Industry: Literature
Revised Edition Ready To Be Unleashed
Wahoo, Nebraska (PRUnderground) October 22nd, 2015
Man Cave Creative Arts & Entertainment Group has announced that a revised edition of the book released last year, The Regulators: Hell On Earth Part One has been in the hands of a professional editor for several months and is now ready to be released as a Revised Edition. The two book set, The Regulators: Hell On Earth went into publication on April 1st of last year but performed poorly, in part, due to the inability of the author to afford having the two books edited. The original project was the first successful attempt at getting a writing project into print in thirty-six years of trying. The author, Douglas H. Youngs chose to self publish the books with the Amazon company, Create Space Publishing after years of trying to draw the attention of traditional publishers as a first time writer.
After a year and a half The Regulators: Hell On Earth now includes the words "Revised Edition" in the title. "When the book was first published it was not affordable to have it edited but that has changed and the book is new, starting over with a new cover look to go with the editing and what is there now is a book that people will enjoy a great deal", the author said. Scott Rutherford, a former writer for the online news source, The Inquisitr, volunteered his services as editor and according to him, "the Regulators is a good story that could be great" and now the first part is ready to test that idea.
The series sequel titled The Regulators: Hell On Earth Part Two is in the process of being edited and will be finished by the end of the year. The release date for the revised edition of Part One is October 31, 2015 and the release date for the revised Part Two is currently set for December 31, 2015. Next year a third installment of the Regulators series will be released with the title, The Regulators II: Out Of Time Part One. No release date has been set as yet and that news will be coming early next year. The series is expected to cover nine books total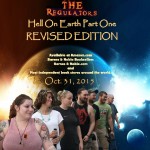 Man Cave Creative Arts and Entertainment Group has also released a book of short stories titled Safe In My Imagination this year by the same author, which was done quietly without fanfare.
About Man Cave Creative Arts & Entertainment Group