QuickBottle: a fast, easy and competitively priced alcohol home delivery service
Industry: Beverages
A company that's changing the way people buy alcohol.
australia (PRUnderground) May 6th, 2015
Welcome to your very own personalised, virtual wine cellar that doesn't even take up any room in your house. Pick what you want and it's delivered to you within 40 minutes – chilled.
The QuickBottle online platform gives customers a full bottle shop range of alcohol from the comfort of their couch. You order with a few clicks and your alcohol will arrive at your place within 40 minutes.
You might think that the products would be a lot pricier than at a bottle shop, but the QuickBottle prices are competitive.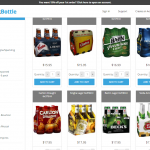 Founder Marc Chris explains, "As wine wholesaler, we pass the benefits of high volume turnover to our clients, our wine prices and deals are a steal. Although beers and spirits are a tough market, our 6 pack range is very well priced even better than a lot of bottle shops – a 6 pack of Peroni for $18-19.99 delivered chilled is a great deal. We are working very hard to match bottle shop prices and eventually beat them and this will definitely happen with higher volumes. All in all, considering the convenience we offer and the industry standard, our service is of great value."
The QuickBottle platform is always updated with the latest technology to ensure a smooth and easy user experience. Happy customers are repeat customers, and that's what the guys behind QuickBottle want.
QuickBottle currently services the Sydney CBD area, the Eastern Suburbs, Inner West and Lower North Shore. Plans are in place to expand into Melbourne and Brisbane in the near future.
QuickBottle is always looking for bottle shop partners to expand their delivery area. Interested parties are urged to get in touch filling out their details on our website: www.quickbottle.com.au/contact.
For media inquiries regarding QuickBottle, individuals are encouraged to contact Director, Marc Chris exclusively at 0412 702 033 or via email at marc@quickbottle.com.au. To learn more about the QuickBottle alcohol delivery service, please visit www.quickbottle.com.au.
About The Great Aussie Bite
The Great Aussie Bite features reviews of foodie, spa, travel and luxury experiences from across Australia.