Purosound Labs Brings Healthy Ears to the UK
Industry: Electronics
Mother and Audiologist Approved Brand Expands to UK
La Jolla, California (PRUnderground) July 15th, 2015
Puro Sound Labs, a premier US consumer electronics audio company, today announced its expansion in the UK with the formation of PuroSound UK Limited. The new company, based in Worcestershire, will bring PuroSound Labs products to a new part of the world, starting with the innovative BT2200 Healthy Ears® headphones, the first and only studio-grade Bluetooth headphones made especially for children, with volume limiting ear protection. The BT2200 headphones will be available online through the company's UK website (http://purosound.co.uk), Amazon UK, and other online outlets.
"We're excited to be in partnership with Puro Sound Labs, and to bring the Healthy Ears strategy to our market," said Simon Fletcher, Director at Purosound UK.  "The UK is currently underserved in the area of hearing protection for young people, and hearing loss in this age group is as much a problem here as in the US."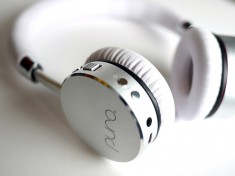 According to the Hearing Health Foundation, prolonged exposure to sounds that are 85 decibels (dB) or louder, such as listening to loud music, is the primary cause of noise-induced hearing loss, which is 100 percent preventable. "By placing an 85 dB volume limit on its headphones, PuroSound is taking significant strides toward protecting children's hearing against premature hearing loss," said Claire Schultz, CEO, Hearing Health Foundation (http://hearinghealthfoundation.org/safe-and-sound). In the US, Puro Sound Labs is donating a portion of every sale this year to the HHF.
PuroSound Labs headphones are designed with a unique frequency response curve called Puro Balanced Response®, designed to recreate the natural sound produced in a perfectly tuned listening room in the headphone listening experience. They also block out 82% of background noise (comparable to some of the best active noise cancelling headphones). The result is amazing sound quality, with clear, crisp vocals, and full, dynamic bass. Even though the volume is limited to a safe 85 dB, these headphones don't feel limiting at all.
The BT2200 Healthy Ears Kids Headphones were introduced in the US earlier this year, and they have received high praise from critics, customers, and even audiologists.
"My first thought was, it's about time," said Noël Thayer, a New York-state licensed audiologist. "I have begun to see more and more young people with noise-induced hearing loss in my practice, caused by high volume in headphones and earbuds. Before PuroSound Labs introduced Healthy Ears headphones, there really wasn't anything on the market, particularly for teens, that addressed the issue."
Brent Butterworth, correspondent for Audiophile Review, wrote, "…what I liked best about these headphones is that I got a satisfying listening level without having to crank them…"
For Mac Observer, Bob Levitus wrote, "Designed for kids but great for grown-ups as well, these headphones offer superb sound…"
PuroSoundLabs products rely on technology partner CSR Plc (LSE: CSR; NASDAQ: CSRE) to deliver best-in-class audio. Jason Wehner, Puro Sound's CTO adds, "In order to deliver a premium experience, we have found that the digital signal processors available in CSR's product line allow us to deliver the signature Puro Balanced Response without compromise."
PuroSound Labs products are available on Amazon.co.uk and at PuroSound.co.uk.
For more information about PuroSound Labs, visit PuroSound.co.uk.
About Puro Sound Labs
Established in 2014, Puro Sound Labs is a premiere consumer electronics audio company that designs innovative and audiophile-quality products at disruptive prices with an emphasis on hearing health. The company's first product, Healthy Ears® wireless headphones for kids, received outstanding reviews from audiophiles, audiologists and mommy bloggers. Puro Sound Labs has been able to replicate big room sound in headphones and in-ear monitors through the use of sophisticated audio engineering, creating products that not only sound good, but are good for listeners' hearing. For more information please visit PuroSound.com.