PUB HTML5 Reveals Unique Advantages of Flipping Book PDF Publications
Industry: Publishing
PUB HTML5 has published an article on its website, outlining the unique advantages available to online publishers who use the software to create digital flipping books.
Hong Kong, China (PRUnderground) December 22nd, 2015
PUB HTML5 recently published an article surrounding its free digital publishing software. According to the article, compared to conventional online publications which are created with other application packages, the software carries several unique advantages for authors around the world.
Two main advantages of the flipping book PDF software were identified in the article by PUB HTML5. The first advantage outlines the fact that published flipbooks are more accessible on various digital platforms. As a result, readers who are interested in publications designed by the PUB HTML5 software will be able to view them on any device, whether they are using desktop computers, Android devices, iPads or other Apple devices.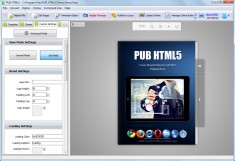 This feature is made possible due to the HTML5 technology used, which eliminates the need for a flash player. Downloading a flash player to view digital content has been found to be a deterrent for many online viewers.
Another advantage of using the software that was outlined in the article is that it allows published content to be automatically ranked by search engines. SEO-friendly content is easier to be found, which can help digital content providers reach a wider audience and potentially realize more revenue.
The flipping book PDF software from PUB HTML5 is used to create a number of digital content, including magazines, brochures and catalogs, either from scratch or by converting static PDF files. The resulting digital publications allow various rich media content to be included, making them more interactive, and have realistic, page turning effect.
With over 48,000 downloads to date, more people are expected to utilize the flipbook maker from PUB HTML5, which can be used on both Windows and Mac computers.
About PUB HTML5
PUB HTML5 provides cutting edge digital publishing software solutions to enhance the content delivery of businesses and individuals worldwide.
About PUB HTML5