PUB HTML5 Looks Back at 2015 in Digital Magazine Publishing
Industry: Technology
Representative of PUB HTML5, the globally leading brand in digital magazine publishing, shared the company's remarkable achievements in 2015.
Hong Kong, China (PRUnderground) January 18th, 2016
The year 2015 was extremely successful for PUB HTML5. The company made remarkable progress in flipbook maker and digital magazine publishing solutions. User groups from all countries across the globe trusted their high performance and user-friendly tools. The software downloads extended to several hundreds of thousands.
The representative of PUB HTML5 provided details about their achievements during 2015. The following key areas in online publishing were highlighted by the representative:
Mobile and user friendly solutions are the #1 priority

Professional web-based application tools

Stunning flipping effects

Seamless inclusion of media-rich files

Simplified designing with powerful templates

Option of free online cloud storage
E-book authors can choose from a staggering variety of digital magazine publishing tools that can conveniently cater all flipbook requirements.  Users can work easily with the simple, yet extremely advantageous designing tools. Any type of printed material can be transformed into a fascinating online publication with minimal effort.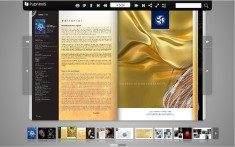 PUB HTML5 took incremental steps to help boost creativity and provide more benefits to the ebook designers and publishers. Best thing about it is that any common user can easily operate and establish new standards for flip books. Every key aspect of the software was engineered carefully to ensure unmatched experience.
Catalogues and digital magazines can be easily broadcasted to mobile devices and other desktop systems (Mac & Windows).  In addition to simpler usability, the chief designers worked diligently to further enhance the template customization and core functions.
Online content can be preserved at the highly secure Cloud Storage offered by the company. Secure backups and e-book optimization ensure peace of mind. Publishers have option of restricting access. They can strengthen security and limit access by the simple process of remotely authenticating end-users. What's more? The support team can also be prohibited from viewing the flipbooks.
Publishers looking to share their content with offline members also prefer the company's leading-edge solutions. Built-in wizards, smart embedding and sharing of interactive electronic books have helped attract audience from all types of demographics. These are some of the major advancements that have enabled PUB HTML5 to build such large worldwide user groups.
For more information, go to http://pubhtml5.com/features/.
About PUB HTML5