PUB HTML5 Flipbook Creator Makes it Easy to Create Striking Flipbook for Free
Industry: Computer Software/Services
PUB HTML5 offers perfect tools to easy and quickly create flipbooks with multimedia, animation, and interactive. It continues to be the best flipbook creator for 2016.
Hong Kong, China (PRUnderground) January 11th, 2016
PUB HTML5 is a leading provider of flipbook creator, and its programmers are working hard to let the users create their flash and HTML5 flipbooks from PDF, MS Office, and OpenOffice documents in a few minutes. These flipbooks are interactive to work efficiently on iOS and Android devices. This advanced flipbook creator can be an ideal choice for anyone to create a product catalog. All of its features are designed after considering the requirements of any e-commerce business, and the users can competently represent their product line.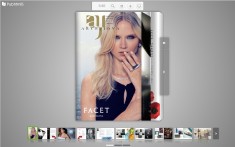 The one advantage of the flipbooks is full customization of the user interface because there are more than 150 options to customize the look of the flipbook. Animations, backgrounds, logo, colors, bookmarks, videos, graphics, anything can be changed with just one click. Users are free to add embedding video, animations, and audio and modify links. Built-in stunning animations can be added anywhere in the book without any coding.
The intelligent platform of PUB HTML5 utilizes the cloud to let every user get the advantage of secure and high-performing flipbooks to any device. The users can add as much information as they want and can create links to direct the readers to more information about the product. Simple and straightforward command line is available for users to create online flipbooks without any interruption and external help. Command line enables users to modify all details of the flipbooks, including, theme, scenes, template, etc.
The PUB HTML5 flipbook creator lets the users get the advantage its social media integration to set embedded pages on social media pages. They can share and link pages through their social media accounts. The flipbook will be easy to read on the tablet, desktop and laptop without any additional plugin or installation.
PUB HTML5 aims to become one of the top creators of flipbook by taking publications to an advanced level and save the precious time of their users.
For more information, go to http://pubhtml5.com.
About PUB HTML5