Programme expanding for FestivalAsia's London debut this May
Industry: Festivals
More cultural and artistic highlights are filling up the bill at the first-ever FestivalAsia ®, London's largest indoor festival about all things Asian
United Kingdom (PRUnderground) March 30th, 2015
More cultural and artistic highlights are filling up the bill at the first-ever FestivalAsia ®, London's largest indoor festival about all things Asian at Tobacco Dock from Friday, 15th May to Sunday, 17th May, organised by Lilisan Ltd in collaboration with Barley Arts International Ltd. With more than 100 exhibitors and a main performance stage along with a cultural room, a spiritual room and children's entertainment, there is something to suit all tastes at this three-day spectacular.
Some of the latest acts scheduled for this unique and exotic pan-Asian celebration include accomplished musician Amy Yuan giving a recital on the Erhu – a two-stringed Chinese fiddle. Audiences can also revel in the colourful costumes and dynamic dance-moves of a 10-strong Indonesian dance troupe. In addition, Pavilion Indonesia will showcase the artistic and cultural highlights of this fascinating archipelago alongside a presentation from the Indonesian ambassador. There will be also be presentations from the Ambassadors of Mongolia and Afghanistan at FestivalAsia ®.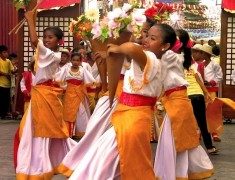 Other highly acclaimed music, performance and dance acts appearing include sitar player and composer extraordinaire Jonathan Mayer who has appeared with artistes from Paul Weller to the BBC Concert Orchestra and works in many musical genres. Akari, who is the only Enka (Japanese blues) singer in the UK, is accompanied by accomplished musician Hibiki Ichikawa – the only professional player in the UK of Japanese stringed instrument, Tsugaru Shamisen. Don't miss Orientalya's exciting Bollywood dance fusion, with Sunny Singh-renowned choreographer of over 50 Bollywood films-making a guest appearance. Award-winning Korean violinist Eunsley plays solo and audiences can delight in the sumptuous costumes and sultry moves of Fleur Estelle's belly-dancing troupe. Duo KAYA showcase their talents in a concert of traditional Korean music played on the 25-string Kayagum – traditional harp – and acoustic guitar.
The unique focus of FestivalAsia's embraces the diversity of all Asian Cultures from many of the countries making up this fascinating continent. This pioneering festival is set to attract thousands of visitors who can expect an inspirational mix of music, dance, food, fashion, martial arts and much more under just one roof, which is certain to enlighten, educate, move and entertain. FestivalAsia ® has something for everyone to enjoy.
Editor's Notes:
FestivalAsia ® will be held 15th-17th May 2015 at Tobacco Dock, E1W 2SF
Tickets are priced at; Adults £12.50 in advance £15 on door, Children £8 in advance £10 on door
For more information about the event, opening hours or to purchase a ticket please visit www.festivalasia.co.uk or click here
Tickets are also on sale at leading ticket agents including chillitickets.com, seetickets.com and ticketmaster.co.uk (booking fees apply)
Click here for details on sponsorship, exhibiting and advertising packages
About World Concert Artists
World Concert Artists: International Entertainment Agency, Booking Agents for Artists, Shows, Exhibitions. Entertainment providers for Corporate Events & Private Parties, Booking for Festivals, TV and Special Events, Management.