Professional Medical Fulfillment is Celebrating 10 Years – Won't You Join us?
Industry: Children and Families
Professional Medical Fulfillment is proud to be celebrating a decade in the disposable medical supply industry and is looking forward to many more years.
Opelika, Alabama (PRUnderground) August 4th, 2015
Professional Medical Fulfillment is proud to be celebrating a decade in the disposable medical supply industry and is looking forward to many more years serving its customers. Whether you are caring for one or many, as a caregiver, you know what it means to be dependable. We at PMF, Inc. want to continue that level of dependability and professionalism through our products and our outstanding customer service.
The opportunity to offer specialized personal service is what inspired Brian Riddle and Clint Chapman to start Professional Medical Fulfillment (PMF, Inc.). They truly believe that the key to a successful business of caring for special needs patients is knowledge and compassion. We at PMF give the same level of personal service to each and every customer we have. Clint Chapman said, "On our tenth anniversary, we feel humbled and our hearts are filled with gratitude.  Brian and I took a chance that what we wanted to do would resonate with others.  Our aim is always to serve our customers and to build relationships with them.  Ten years is proof that's happening.  We are doing what we set out to do."
At Professional Medical Fulfillment you'll receive:
Convenient and fast delivery to your doorstep

Sizes, features, and selection not usually found in stores

An option for automatic monthly orders set up for each individual within a monthly or yearly budget

Customized billing in a format of your choice

Free shipping on orders over $50

Discreet, unmarked packaging to ensure your privacy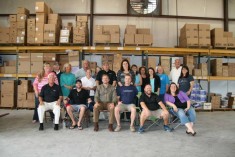 Whether you are caring for a loved one or a client, you can be assured that PMF will help you get the incontinence products you need. All it takes is a phone call to a friendly, knowledgeable staff member to answer your questions, to provide product information, or to send a sample to ensure best fit and function for your client or loved one.  With distribution centers across the country, you can count on timely delivery anywhere in the continental U.S.
We accept payment by Paypal or credit card (Visa, Mastercard or American Express) – or you can pay with your Amazon account for added convenience.  For business customers, we offer additional billing options.  Call us for more information and assistance.
To learn more or to request a free catalog, please visit us at: http://shop.choosepmf.com, or contact us at: sales@choosepmf.com / tel: 877-516-4582.
About Professional Medical Fulfillment, Inc.
PMF Inc, provides brand name diapers, pullups, wipes, latex gloves and other disposable supplies needed children and older adults for family and business. We provide incontinence products nationwide and have other products for caregivers: catheters, underpads, bibs, cleaning safety supplies, and ensure.
Brian Riddle and Clint Chapman started PMF, Inc. in 2005. Then and now, we strongly believe that specialized personal service is needed more than ever in the disposable medical supply market. With this in mind, we set ourselves apart by offering quality service and quality products to our customers.
Our differentiator is the personal service we provide for each and every customer we have. Along with this, you'll also discover free samples, hard-to-find sizes, value buys, doorstep delivery, easy payment, 30-day guarantee, and so much more.
Whether you serve many or are only responsible for one, we are here to help – providing the top name brand medical supplies that caregivers trust for their loved ones, clients and patients. With peace of mind and convenience, choose from a complete selection of diapers, pull-ups, wipes, and adult bibs – insured with a level of individual service that is rare in our industry.