The G2 Crowd Best of 2015 awards are out, and PRUnderground.com has won 2 awards – "Highest Rated Ease of Setup" and "Highest Rated Ease of Doing Business With".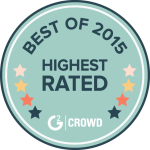 To create their best of lists for 2015, G2 Crowd, the world's leading business software review platform, analyzed a data set of "more than 50,000 reviews". All products considered received a minimum of 20 reviews in 2015.
These end of year awards for PRUnderground are in addition to being named a "High Performer" and 3rd In "Customer Satisfaction" in the Fall 2015 report on the top Press Release Distribution Services.
"We are very thankful to PRUnderground users for rating us so highly and also to G2 Crowd for including us in the report, against much larger companies such as PR Newswire and Business Wire" said Brian Scully, CEO of PRUnderground.com. "Our competition has a lot more money and resources, so we know we must compete by having a fairly priced product that satisfies small and mid-sized business requirements for basic press release distribution over the web."
You can view all the G2 Crowd best of lists for 2015 at www.g2crowd.com/blog/g2-crowd-best-2015-users-choice-lists.
About