Peter Stephan Offers Tax Resolution Seminar & Webcast For CPAs And Attorneys To Help Taxpayers
Industry: Accounting
To improve the tax relief industry, Tax Resolution Institute founder Peter Stephan offers Tax Resolution Seminar & Webcast for CPAs and Attorneys on July 17 in Los Angeles
Los Angeles County (PRUnderground) July 10th, 2015
In an effort to improve the tax relief business, Tax Resolution Institute founder Peter Stephan is offering a Tax Resolution Essentials Seminar & Webcast for tax professionals, certified public accountants, enrolled agents and attorneys on July 17, 2015 in Los Angeles. As TRI's founder, Peter Stephan wrote The Ultimate Guide To Tax Resolution; a textbook that shows tax professionals how to execute tax resolution services in order to help American taxpayers in trouble. With the IRS going after delinquent tax debts to cover budget shortfalls, Peter Stephan's goal is to show tax professionals how to help taxpayers find the tax resolution outcomes they need.
The goal of the seminar is to help a tax resolution professionals become trusted advisors for their clients when it comes to facing IRS tax problems. Given the criminal disbarment of 'Tax Lady' Roni Deutch, the bankruptcy of JK Harris and TaxMasters, and the successful prosecution of American Tax Relief by the FDA, the tax resolution industry needs to clean up its image.
Peter Stephan explains his passion behind the seminars and his support of tax professionals through taxresolutioninstitute.org when he says, "The best way to make the changes needed is by properly training tax professionals to do the job right. I tell them blanket treatment is not enough. You need to diagnose the tax problem in order to treat it."
The Tax Resolution Institute is approved by the State Bar of California, the California Board of Accountancy, and the Internal Revenue Service to provide continuing professional education to tax professionals. Beyond learning how to file Installment Agreements and submit an IRS Offer in Compromise that will be accepted, Peter Stephan provides an in-depth understanding of the sequence of events. As a tax resolution professional with a 25-year history of providing tax resolution services, Peter believes in doing the precisely and effectively for his clients in need of help.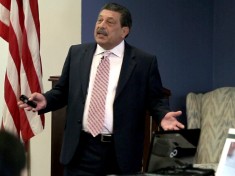 In response to Peter Stephan's support, industry leader Michael Rozbruch commented on LinkedIn, "Peter, glad to see that you're helping practitioners become proficient in this lucrative niche so that they have the confidence to ethically represent clients before the IRS. Nice work!" The key combination of points is that tax resolution services can be both lucrative and ethical for tax professionals. The important first step is for tax professionals to access the quality training offered by Peter Stephan in his seminar and webcast on July 17, 2015.
About Tax Resolution Institute
The Tax Resolution Institute has been approved by The State Bar of California, the California Board of Accountancy, and the Internal Revenue Service to provide continuing professional education to Attorneys, Certified Public Accountants and Enrolled Agents. TRI\\'s managing partner and founder, tax resolution specialist Peter Stephan, authored The Ultimate Guide to Tax Resolution. TRI helps taxpayers resolve their tax problems while teaching tax professionals how to do the job right.