Peer Office Kicks off Website Launch with Rooftop Celebration
Industry: Real Estate
Finding a space that works for you
California (PRUnderground) May 19th, 2015
Today, Peer Office announced the launch of its highly anticipated website and it is revolutionizing the share economy by taking the peer-to-peer experience to commercial real estate. In the current workplace environment there is a surplus of open space that is not being utilized and remaining vacant. Peer Office offers a low cost monthly membership service that bridges the gap between individuals looking to rent office, conference or event space with those companies that have space available.
Photo caption left to right: Charlie Trinh, Jude Belanger and Chris Kito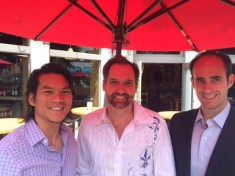 "We are excited to launch our website and provide a much needed service to help fill the vacant workspace that is out there today" states Chris Kito, co-founder of Peer Office.  "There are many people out there, most of whom are just starting their company, or are traveling nationwide, and need a flexible and short-term work space. Office space can be very costly and most often tied to a long-term conditional lease. A membership with Peer Office can provide a quick, cost-effective solution without the use of brokers, a long term lease and with no transaction fees."
Peer Office provides a cost-effective solution and an exceptional opportunity for individuals, or companies, seeking temporary and/or permanent work space in the greater Los Angeles area. The trusted website directory of pre-screened office spaces range from high-rise buildings, in the center of Los Angeles, to a roof top near the Santa Monica pier with spectacular views of the Pacific Ocean. The easy- to-use website gives people access to an extensive list of unique office space capable of meeting anyone's needs.
For more information on membership details and to browse the available office destinations visit www.peeroffice.com and find a great space that works for you.
About Peer Office
Founded in 2015, by Jude Belanger, Chris Kito and Charlie Trinh, and located in Santa Monica, CA. Peer Office is a trusted source that connects people with a pre-screened workspace suited to meet their individual workplace needs. There are no transaction fees or brokers. Follow us on Facebook and Twitter.
For more information on membership or to browse our workspace listings at www.peeroffice.com.