P Simpsons Hometown Grille to be Sold via Timed Online Auction
Industry: Restaurant/Hospitality
After six years in business, P Simpsons Hometown Grille in Simpsonville, SC has closed and the assets will be sold via timed online auction by Meares Auctions.
Simpsonville, South Carolina (PRUnderground) November 2nd, 2015
After six years in the Simpsonville area, the owner of P Simpson's Hometown Grille has decided to close the doors.  Meares Auctions, of Pelzer, South Carolina, has been contracted to liquidate the restaurant wall-to-wall and will be doing so through a timed online auction.  There will be no live onsite bidding.
The owner of the restaurant chose the auction method to expedite the liquidation in order for him to turn the space back to the landlord.
Items to include:  Commercial food service/kitchen equipment including the ice maker, True freezer, True five-head kegerator, dining tables (2-top, 4-top and larger), dining chairs, walk-in cooler, wine racks, bar and bar stools, decorations on the walls, lighting in the building, fixtures in the restrooms, POS system, flat panel TVs, commercial pool table, upright piano, Metro-style racks, refrigerated prep stations, stainless steel tables, meat slicer and many other items.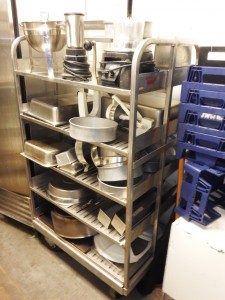 The auction contains over 550 lots and the bidding will run through November 9, 2015.  Beginning at 10:00 am EST on November 9, items will begin to close – 3 items will close every minute until all items have been sold.  As the items close, bidders are able to continue bidding on the items and any bid entered within the last minute of bidding on that item extends that particular item's closing time by two minutes.
The bidding catalog can be found online.
From contract signing to the pickup of the last item in the auction, this event will span only 35 days.  Auctions generate ACTION.
About Meares Auctions, Inc
Meares Auctions, Incorporated is celebrating its 43rd year in the auction industry. By utilizing the latest live, real-time Internet auction methods they attract bidders from across the United States and the world. Meares features an extensive list of clients and a resume of auctions that span many facets of the industry including Estates, Real Estate (both residential and commercial) and specialty collections such as firearms, coins and toys.