Ohio Filmmakers Travel U.S. in Search of Bigfoot Stories for "Small Town Monsters" Series
Industry: Film
Two filmmakers are scouring the country for the most fascinating stories behind the Bigfoot myth. From Texas, to New York, they're in search of the truth!
Wadsworth, OH (PRUnderground) November 25th, 2015
The film crew behind Minerva Monster has moved on to their next project in their "Small Town Monsters" series; Beast of Whitehall. The documentary film centers on a bizarre entity that was seen on the outskirts of Whitehall, New York by eleven people in August, 1976. Eight of the original witnesses were law enforcement officials.
Seth Breedlove, who directed and produced Minerva Monster is directing and producing Beast of Whitehall with Brandon Dalo onboard as a producer and the film's composer. Both are northeast Ohio natives. The duo visited New York in July and again in September and filmed the movie over the course of 6 days.
Beast of Whitehall is slated for release on April 1st.  They plan on touring New York next summer with the film and doing local screenings and talks about the subjects presented in the documentary. A similar release pattern was used with Minerva Monster to great success.
Small Town Monsters is the brain child of Seth Breedlove, a freelance journalist who originally pitched the concept as a book series. Later, his passion for film fed a desire to see the project turned into a series of films. Along with Brandon, the two have learned all aspects of filmmaking from sound and camera operation to editing. They're already planning how best to utilize these skills on their next film, Boggy Creek Monster, which begins filming in late April in partnership with tv personality and author, Lyle Blackburn.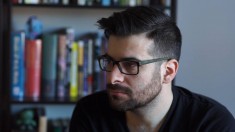 The team has appeared on the Animal Planet website, Fox 8 News, Cleveland's WKYC, Akron Beacon Journal, The Canton Repository and more.
Seth and Brandon are available for interviews and talks. Contact information listed above.
For more information visit http://smalltownmonsters.com or facebook.com/smltownmonsters
About Small Town Monsters