OFFICE HOURS: One Academic Life By H.N. Hirsch, PhD Explores the Crisis in Higher Education
Industry: Book Promotion
OFFICE HOURS: One Academic Life is a thought-provoking reflection on academia during a time when the crisis in higher education has never been more acute
United States (PRUnderground) December 18th, 2015
OFFICE HOURS: One Academic Life By H.N. Hirsch, PhD
"This is the story of a serious scholar finding his vocation, his students and his gratifications, amidst the near-impossibility of such discoveries in higher education today. The writing is beautiful and the accounts of times, places and institutions are alternatively moving, penetrating and provocative." —Wendy Brown, PhD, Professor of Political Science, University of California, Berkeley
"Written in lyrical and sparkling prose, Harry Hirsch's Office Hours is, on the one hand, an intimate and insightful memoir of a Jewish gay man's trajectory from a Chicago boyhood to Princeton, Harvard, and beyond. On the other hand, it's a penetrating critical analysis of college and university approaches to education by an accomplished professor and dean (and dedicated teacher) who knows of what he speaks…" —Priscilla Long, Author of Where the Sun Never Shines: A History of America's Bloody Coal Industry, The Writer's Portable Mentor, and Crossing Over: Poems.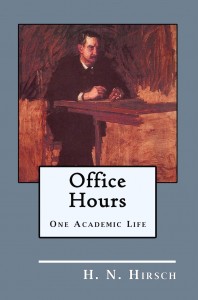 Professor H.N. Hirsch of Oberlin College's passionate and insightful memoir, OFFICE HOURS: One Academic Life (Quid Pro Books, LLC; February 2015; hardcover $29.99; paperback $19.99; ebook $8.99), is a thought-provoking reflection on academia during a time when the crisis in higher education has never been more acute.
Hirsch should know: A career university educator and administrator, he has taught at Harvard, the University of California, and is currently Professor of Politics (and a former dean) at Oberlin College. His first-hand observations and trenchant criticisms of today's university culture are sure to compel the attention and respect of those in as well as outside of academia.
Even a cursory glance at today's headlines reveals that higher education is in crisis. Tuition outpaces inflation. States slash budgets. Graduation rates decline. Technology threatens to replace everything. Universities continue to grind out PhDs, poorly paid adjunct instructors who will do most of the teaching yet rarely advance to tenured positions. Those who do get tenure find themselves mired in the publish-or-perish rat race, having to publish more and more.
Although thousands of students apply all over the world to attend American's most prestigious colleges and pay top dollar to do so, the truth is that most of them are herded into increasingly large lecture halls and rarely have the opportunity to interact with professors, much less be mentored by them.
What are colleges really like? What does academia do wrong and what does it do right? What is it really like to be a professor and administrator at one of America's prestigious educational institutions? How can the modern university system be reformed and reinvigorate its prestige and reputation?
In OFFICE HOURS: One Academic Life, Professor Hirsch, drawing upon decades of first-hand experience as a professor and university administrator can give your readers answers to these troublesome questions.
Among the many issues Professor Hirsch discusses include:
·     Why contemporary public support for higher education is lukewarm at best and that criticism of its performance from all quarters is rapidly increasing.
·     The sacrifices and compromises academics must make to ensure their economic survival—often at the expense of their own real talents and their students.
·     How the disdain for the importance of teaching has a huge impact on how academics spend their time and on the quality of what transpires in the classroom as a result.
·     The absurdity of the publish-or-perish syndrome that militates against the best interests of scholars and can even ruin their careers.
·     Why the present definition as to what counts as scholarship needs to be seriously reconsidered.
·     Why the modern university's commodification of knowledge corrupts higher learning and fails to advance the cause of genuine scholarship.
·     The ongoing discrimination within academia against the LGBT community. Too often, a university's commitment to LGBT issues is little more than lip service.
Students, parents, educators as well as citizens concerned about education in America will find Professor Hirsch's OFFICE HOURS: One Academic Life to be an unflinchingly honest memoir, an eye-opening yet rewarding experience that will enlighten and even entertain.
Book reviewers and other media professionals wishing to review the book or interview the author should contact, Gilbert K. Zachary at ProBookMarketing. Phone: 845-493-0468 E-mail: gilbert@probookmarketing.com
Title: Office Hours: One Academic Life
Author: H.N. Hirsch
Publisher: Quid Pro Books
Pub Date: February 2016
ISBN: 9781610273336 (paperback)
ISBN: 9781610273381 (cloth)
ISBN: 9781610273374 (e-book)
About H.N. Hirsch, PhD
H.N. Hirsch was born in Chicago and educated at the University of Michigan and at Princeton University. He has been on the faculties of Harvard, the University of California (San Diego), Macalester College, and Oberlin where he has served as the Dean of the Faculty and is currently Professor of Politics. He is the author of The Enigma of Felix Frankfurter and A Theory of Liberty: The Constitution and Minorities as well as the edited volume of The Future of Gay Rights in America. In addition, he is the author of numerous scholarly articles on constitutional law, gay and gender politics, and American political thought.