New True Taste Bars Challenge Category Leaders
Industry: Health and Nutrition
True Taste Nutrition Bar uses 100% Organic/Non-GMO ingredients AND Zero Added Sugar
NEW YORK CITY, NEW YORK (PRUnderground) August 11th, 2015
The team at True Taste Bars is launching a line of health-conscious snack bars that offer decadent taste and a punch of energy. Unlike competing nutrition bars, True Taste Bars are laser-focused on providing optimum health benefits by using the most beneficial ingredients possible.
True Taste Bars delivers 100% organic food ingredients that derive from a base of dried plums. 99% of nutritional bars on the market today use dates as their base ingredient, but the team at True Taste Bars has found that dried plums offer far more health benefits. Plums are far richer in antioxidants and are higher in vitamin and mineral content, offering bone density support and more. Dried plums naturally curb appetite because they are naturally high in fiber, offering an effective push towards weight loss or fat burning goals.
That's not all the new brand offers. True Taste Bars are non-GMO certified, USDA organic, and vegan certified. The gluten-free, soy- free, dairy-free nutrition bars fit into virtually any diet. Naturally raw, True Taste Bars are never baked and packed with bold flavors from a short list of ingredients.
True Taste Bars have zero fillers, chemicals, additives, or sugars. Unlike other bars that claim to have no sugar, yet include sugar derivatives, these bars truly have no added sugar. There is no honey, agave syrup, or cane sugar in any of the True Taste Bars flavors. The only sugar contained is natural sugar from the dried plums. The bars fit seamlessly into a diabetic diet, offering a low glycemic index that makes it easier to manage blood glucose levels. True Taste Bars even offer a lower calorie count than competing brands.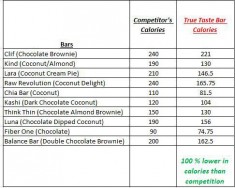 True Taste Bars is making waves in the health foods industry. Each bar offers a never-before-seen blend of 5 raw ingredients that offer big, guilt-free flavor. Now, health-conscious consumers can purchase True Taste Bars in three delicious flavors: Coconut Brownie, Ginger Snap, and Cinnamon Roll. The bars will be available in individual units or 12 pack cartons.
True Taste Bars also has other big news. The company is slated to be at the San Diego ECRM Marketgate trade show at the end of August, a networking event that draws business owners from around the country.
More information about the all-natural, health conscious bars can be found at http://www.truetastebar.com.

About True Taste Bars
True Taste Bars was founded by Ilona M. Kovacs to offer 100% natural energy bars that taste amazing while offering optimum health benefits. With just 5 raw ingredients, each bar is low-calorie and low-glycemic while offering gluten free, soy free, dairy free, no added sugar, and non-GMO assurance.