New Site Offers A Whole New Experience Of Gifting
Industry: Online Shopping
GI-VE.com Offers A Huge Range of Lifestyle & Experience Gift Ideas
New York, NY (PRUnderground) August 2nd, 2012
Ever wonder what to get the person who has got it all?  Thanks to the launch of GI-VE.com, known simply as GIVE, the New York metropolitan area has far more exciting gifting possibilities than ever before! A gift design agency on a mission to end the curse of the re-gift, GIVE has launched just in time for this year's upcoming holiday season.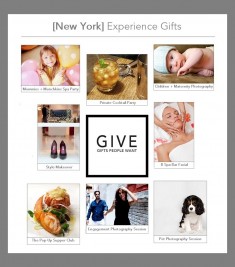 "We are so excited to bring our concept to launch, and finally offer consumers a portfolio of unique gifts that are actually useful for different life scenarios – whether you know someone who's having a baby, just got engaged, or a super-foodie who's seen (or eaten) it all," said Co-Founder, Erin Lee. "We know gift-giving can be stressful – who wants to give a bad gift?  It takes time and planning, and that's what we're here for!"
The company's gift designers are constantly observing the way people engage with the world around them, in an effort to identify the hottest products and services that meet the needs and desires of the modern Metropolitan consumer.
But GIVE doesn't stop there!  In an effort to promote the cycle of giving, the company donates 5% of proceeds from each gift purchased to a charity organization that is aligned with that gift category.  For example, the Pet Photography Session donates 5% of proceeds to HeARTs Speak, a charity whose mission is to unite the individual efforts of animal artists and rescues to increase the number of animals adopted and reduce the numbers that are unnecessarily euthanized.  Other charities include Feeding America, Susan G. Komen for the Cure, City Parks Foundation, The Children's Aid Society, Save the Children and Phoenix House.
"One of our goals is to raise awareness for important issues and causes around the world that are often ignored or forgotten.  We believe everyone wants to do good, but sometimes it's hard to know how and it takes time to actively seek out ways to help," added Lee.
"We wanted to make it a little bit easier by creating socially-conscious gifts that force you to do good while you're doing it anyway.  We believe each donation makes the gift even bigger and better than it already is, and that truly makes its effects priceless."
GIVE also believes you can judge a gift by its wrapping.  To enhance the total GIVE experience, each gift is beautifully wrapped in its signature tangerine, eco-friendly fabric gift-wrap.
Though GIVE is already in talks to expand into other markets outside the New York Metro Area with the intention to go national, today the company's focus is in offering their experience gifts to all of NYC and parts of the New Jersey and Connecticut area.  Their product-based gifts ship nationwide.  For more information and to place orders, please visit GI-VE.com.
About Give.com
A gift design agency founded on the basic principle that a gift recipient should actually like what they receive, GIVE's (www.GI-VE.com) mission is to end the curse of the re-gift. The company was created to make gift-giving easy by designing gift packages that are suitable for a wide range of personalities and lifestyles.
GIVE's designers are constantly observing the way in which people engage with the world around them, in an effort to identify products and services that fit their needs and desires. Each Lifestyle Kit and Experience gift is the result of their extensive research and consultation with leading lifestyle experts.
In addition, GIVE donates 5% of proceeds from the purchase of each gift to a charity that aligns with each gift category. The result is a socially-conscious gift that keeps on giving.
For more information, please visit GI-VE.com.