New NeoGraft™ Device Improves Hair Transplants In Westchester
Industry: Medical
NeoGraft is an exciting new breakthrough for hair loss patients in Westchester, allowing more men and women to take advantage of the benefits of no-scalpel/no-stitch FUE
Armonk, Westchester, New York (PRUnderground) September 24th, 2012
NeoGraft, a new European medical device now available in the U.S., can dramatically improve hair transplant surgery for both male and female patients.  Park Avenue Medical Spa in Armonk is the first medical practice in Westchester to offer NeoGraft to patients.
NeoGraft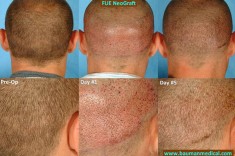 The FDA-approved NeoGraft automates the surgical removal, collection, and placement of individual hair follicles, one at a time, eliminating the need for doctors to remove a large strip from the back of the scalp (a procedure known as a linear-harvest Follicular Unit Transplant or STRIP FUT).  The targeted removal of individual hair follicles is known as "Follicular-Unit Extraction" or FUE, is a minimally-invasive microsurgical procedure that has been available for several years, but until now has been too time-consuming and costly for many patients.
NeoGraft is an exciting new breakthrough for hair loss patients allowing more men and women to take advantage of the benefits of no-scalpel/no-stitch FUE hair transplants," said Dr. Tchelebi M.D., a board certified one of the first doctors to perform hair transplantation with the NeoGraft device in the state of New York. "FUE has been an extremely effective surgical procedure that allows for the precise, artistic placement of new hair follicles to recreate a full and natural-looking hairline, while reducing recovery time and eliminating the unsightly linear scar associated with traditional hair transplants."
Hair Loss in Men and Women
Over 40 million men suffer from hair loss, 40% of men have noticeable hair loss by age 35 and 65% by age 60.
For many men, hair loss is inevitable.  It is a hereditary condition that increases with age. These genes may be passed from either the maternal or paternal side.
Approximately 21 million women suffer from hair loss, 40% of women have noticeable hair loss by age 40.
The reasons for hair loss in women often have to do with heredity.  Other reasons include hormonal changes, stress, illness, and poor nutrition.
Benefits of NeoGraft
According to Dr. Tchelebi,  the key benefits of FUE surgery performed with NeoGraft are:
• Least invasive procedure for hair transplantation, patients feel little to no discomfort
• No linear scar or numbness where the donor hair is harvested
• No stitches or staples
• Shorter, more comfortable recovery
• Less activity restrictions after surgery, patients can typically go back  to work the next day
• Very short haircuts are possible after surgery
• Transplants roughly twice as many hair grafts as manually performed FUE surgery
• Cuts the cost of manual FUE treatment by as much as half and in some cases reduces the need for additional
   surgeries
 "Until now, FUE-type hair transplants were labor-intensive and time consuming, which meant that patients had to undergo long multiple surgeries to get the desired effect". "Now that a more efficient automated device is available, doctors can double the number of grafts transplanted per session or shorten procedure times, saving patients both time and money."
Hair Transplant Institute at Park Avenue Medical Spa
As a practicing Radiation Oncologist for more than 17 years, Dr. Tchelebi has seen the devastating effects of Radiation or Chemotherapy on patients.  After opening her aesthetic practice in 2004 she has continued to search for the best approaches to hair restoration. She was not happy at the time with the popular strip technique and was hoping that the automated equipment for FUE (follicular unit extraction) with which she became familiar at the European Aesthetic Conferences in Paris will become available in the US.
About Park Avenue Medical Spa
The Park Avenue Medical Spa reflects the lifelong vision and passion of its founders, Anca E. Tchelebi-Moscatello, M.D. and Augustine L. Moscatello, M.D. They believe regenerating and rejuvenating the body and soul leads to lifelong well-being and inner peace. The aesthetically-oriented medical spa offers physician-designed, scientifically proven treatments based on the latest medical breakthroughs.
State-of-the-art laser technologies, IPL (Intense Pulsed Light), BOTOX® and facial fillers are some of the treatments that achieve outstanding transforming results.
Park Avenue Medical Spa combines the latest advances in medical science with traditional and complementary treatments to bring its clients the ultimate in rejuvenation. The overall goal is to build healthy minds and bodies as a first line of defense against aging.