New AnyFlip Online Magazine Maker Enables Marketers To Publish Content Faster Than Ever
Industry: Marketing
AnyFlip online magazine maker has been enhanced and presented with a much faster processing speed that will convert lengthy PDF into interactive format within a minute.
Hong Kong, China (PRUnderground) January 25th, 2016
The marketing world has become highly competitive where each second means earning or losing money. To create eye catching content and present it to the customers in time can result in a higher chance of earning more customer response. Making this process much faster and efficient, AnyFlip's online magazine maker has been presented in an enhanced form with a faster processing speed that will allow marketers to lower production costs, increase reach and generate more revenue.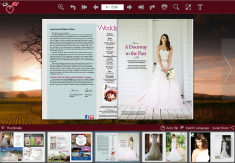 "Time is money and every second means a lot. We have tried to help the marketers in reducing the time being consumed in creating interactive content for a successful marketing campaign", the company officials said. Concerning the enhancements made to the well acclaimed AnyFlip online magazine maker, they said, "Our enhanced AnyFlip online magazine maker provide a faster processing speed that will enable marketers to create a 10-page magazine in an interactive, page flipping, multimedia rich format in just a minute."
The AnyFlip online magazine maker has been equipped with powerful features which enables the marketers to convert their marketing content from plain PDF form to extremely interactive and impressive flipping format. Nor does this make the content look much richer, it also makes its presentation highly impressive which makes the potential customer to stop and read it with complete attention. Adding on to the impressive working of it, the makers have made it faster and now it converts and creates amazing content within a minute.
"Our aim is to assist our users in all possible manners and by providing them our online magazine maker to digitize and deliver interactive documents to customers in lesser time, we want to aid them in lowering their production costs and earn more revenues", the company representative said. The AnyFlip online magazine maker is already getting rave reviews and feedbacks from its customers all around and with the enhancement made, the creators have made it more potent and impressive.
For more information, go to http://anyflip.com/features.
About AnyFlip