Neptune Hydrotherapy Pool Lift Added to Dolphin Lifts Portfolio of Hoisting Products
Industry: Medical
Capable of working just as well with in-ground pools as it does with deck level pools, the Neptune is an exciting addition to Dolphin's comprehensive pool hoist portfolio
United Kingdom (PRUnderground) May 22nd, 2015
Dolphin Mobility, one of the UK's leading suppliers and installers of pool lifts and hoists is delighted to announce the addition of the Neptune Pool Lift to its ever growing portfolio of pool lifts and access solutions.
The design of the Neptune enables it to be used with ground and deck level pools. There are three seating options available with the Neptune; two transportable chairs and a stretcher trolley all of which combine to make it a very popular solution for hydrotherapy pools as well as the more standard public swimming pools.
The Neptune features a manually operated winch system which has been designed to provide the user with a comfortable and safe transfer from the poolside into the water while maintaining their dignity at all times. From a carer's perspective, the Neptune is very user friendly and can be secured to the floor by the installation of a ground level socket or surface mounted base plate.
As pool side space is often restricted the Neptune can be easily removed when not in use and a transporter is available should it be required.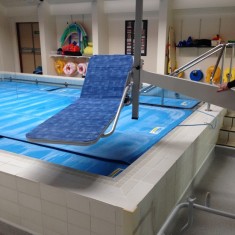 "At Dolphin Lifts, we have a team of specialist advisors trained to help clients select the right pool lift for their specific requirements and as we are not aligned to any one manufacturer we can offer truly independent advice to our customers" commented Craig Dunnage, Director, Dolphin Mobility.
About Dolphin Mobility Ltd
Dolphin Mobility is part of the Dolphin Lifts Group, specialist in the supply of products for the disabled and the leading independent suppliers of stairlifts in the UK. Dolphin supply, install and maintain stairlifts, step lifts, hoists, wheelchair lifts and pool lifts.